Changing the rules of engagement
Setting a framework that would allow the supplier community to act in a different way has been a challenge for Thames Water's eight2O alliance. With its 'Shared Voices' initiative, has the alliance succeeded?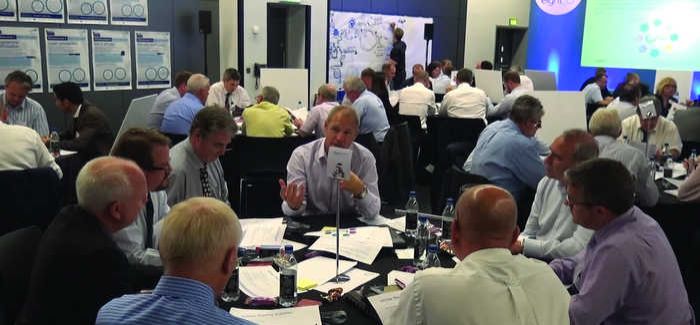 Suppliers will become an extension of the eight2O enterprise, and they were not shy about asking questions and testing the partnership approach
You say
"What excites me about the new way of working is that this is the first time I have genuinely seen in all of the AMPs that the client is coming to the supply community and is actually giving us the chance to participate in the early contractor involvement"
Martin Whitfield, business and operations director, Damar Group
"It's all about innovation, early involvement and trying to do things differently. We want to get involved very early in the process. It's a massive opportunity for us. It's a big spend,. an important client. Getting involved early means you can commit to a relationship for a very long time"
Lawrence Summers, director, Cappagh
"The key message has been the ongoing collaboration with the supply community, the progressive engagement and giving us a feel as to how we will gradually integrate into eight2O"
Shaun Stevens, MEPS
The water industry is a cautious one and with good reason – delivering clean fresh water and managing waste is fundamental to the health and wellbeing of the nation. But an industry cannot be driven by caution: it must work alongside an ambition to do things better and exceed customer expectations on service. That requires innovation.
That was the challenge Thames Water set when it signed up eight2O, an eight-company alliance, to deliver its hugely ambitious asset management plan over the next five years. To deliver Thames Water's programme whilst providing value for money for customers, the alliance would have to break the mould for water sector asset delivery – and embrace its suppliers as an integral part of the eight2O enterprise.
Last December, eight2O invited its supplier community to come together for a no-holds-barred discussion meeting. At this first event eight2O resolved to simply listen: to find out what it is like to be a supplier, and understand how suppliers could step up to help. The message was clear – suppliers said they wanted three things: early visibility of the programme; the opportunity to contribute; and early involvement.
Radical difference
This may sound simple, but it is a new way of working in the water industry, which has previously upheld a more traditional approach and has been wary of learning from others – the supply community included. Instead of tapping companies' expertise at an early stage when it can make a radical difference, in the past tenders were not invited until after design work was completed, severely limiting the opportunity to bring in change for the better.
At that first meeting the supplier community was optimistic – but wary. Companies felt they had more to offer, but they were not so sure that eight2O could break the water industry mould.
Six months later, in July, the supplier community met again for a "Shared voices" update – one of many meetings that are part of eight2O's continuous engagement with suppliers. The difference in atmosphere was palpable: suppliers heard how eight2O has re-engineered its processes positioning procurement in advance of the engineering – "Putting the P before the E". Suppliers who had been wary six months ago were enthusiastic about the opportunity, and at the meeting 100 companies signed a pledge that they would work with eight2O to meet the challenge Thames Water had set in its delivery programme.
"Shared voices" was a strong start towards creating a culture and practice that would make the Supply Community an integral value adding part of the eight2O team.
For eight2O, the challenge was setting a framework that would allow the supplier community to act in a different way – and to transmit that new relationship to all levels of the supply chain. At the most recent meeting eight2O shared its programme with suppliers and set out expectations. Importantly, it also demonstrated how it would collaborate with suppliers, andit believes its new "Infinity" supplier relationship management programme is ground-breaking. 
Infinity includes looking for opportunities to introduce new processes and technologies that are well established in other industries. It includes integrated design, whole life costing, product standardisation and off-site manufacture, and a willingness to challenge accepted limits. And across the programme, it means a new way of engaging with suppliers – backed up by a supplier engagement hub to keep all suppliers informed.
eight2O shared its own journey with suppliers, revealing how it had re-examined its own behaviours in setting out this programme. For example, it realised that if it wanted to make dramatic and long-lasting changes, it needed some structure to transmit those changes throughout the alliance and avoid falling back on "business as usual". So it has opened an "ideas hopper" and asked anyone and everyone to make suggestions, from the largest potential supplier to the newest recruit.
Ideas in the hopper go through a structured review that assesses their potential and, crucially, whether they can be replicated throughout the alliance, so savings, whether in time, energy, carbon emissions or safe working, can be multiplied. eight2O will embed innovation within an evolving project, not simply include new ideas at the start and then fix the project in aspic.
And to build in "systematic collaboration" eight2O realised that a wealth of expertise from the supply community and a windfall of ideas would have to be properly managed, so it has identified ten "efficiency levers" that together should capture all the opportunities. Some levers tackle old assumptions head-on: "regulatory challenge" and "asset standards" look behind the rules to see how they have been set and why, so that Thames Water's public safety guardians can have full confidence in new solutions to old problems put forward by eight2O and the supplier community. Dedicated eight2O representatives "own" each lever and that means when they have qualified new ideas there is a framework that allows them to be deployed.
Formal incentives
The companies at the meeting knew that they were not making a light commitment. eight2O was clear that it expected the best, telling attendees that "good performance is not good enough – we want to be world class". Suppliers heard details of how eight2O would recognise and respond to high performance. There are some formal incentives within the eight2O framework – companies scoring more than eight out of ten in eight2O's performance management metric will get a larger share of future business, for example. But the supplier community was also signing up to something bigger: a willingness to bring their own expertise to bear, to act early and in collaboration, and to develop a different attitude that shares risk and reward.
Suppliers were told at "Shared voices" that they will become an extension of the eight2O enterprise. In response, they were not shy about asking questions and testing the alliance's partnership approach – and the questions clearly reflected buy-in to the new approach from the supply community. How will intellectual property be apportioned? How can suppliers transmit the open innovative approach to their sub tier suppliers? Was there funding for risk? These are not the kind of questions you would have from suppliers working in the old way.
The supply community representatives came to the July meeting ready to roll up their sleeves and get started. They were rewarded with very early visibility of eight2O's demand plan – far earlier than would typically be shared. Graham Keegan, eight2O's chief operating officer, says: "We have been balancing upfront thinking and getting on with the job. We are heavily deployed and we have laid lots of the foundations. We will soon be going out to market with early-start projects in design. Work is just around the corner. "We are getting ready to roll."
eight2O's pioneering approach to collaboration and the lessons learned so far will be among the topics discussed at our Water Industry Supplier Conference on November 26. Click here to find out more. 
This article first appeared in the September issue of WET News.