Case Study: Pumping up quality at Burnham Jetty
A year's worth of planning, seamless collaboration and technical expertise were crucial to the success of a complex operation to improve the bathing water quality at a popular coastal spot in Somerset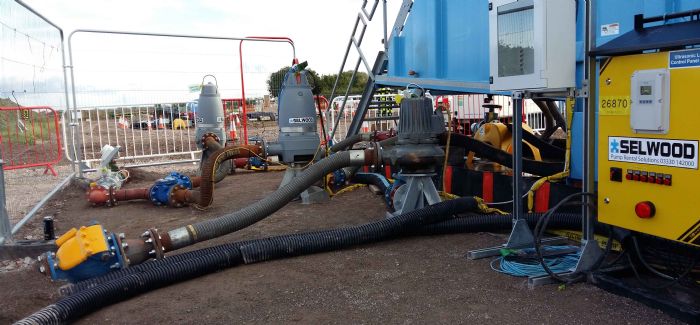 Wessex Water is working at several locations along the mouth of the River Parrett as part of a wider £39 million project aimed at improving conditions at Burnham Jetty, a sandy beach enjoyed by thousands of holidaymakers each summer.
Action was needed in the light of a new EU Bathing Water Directive that introduced stringent new standards and led to the classification of conditions at Burnham as poor. A total of 12 schemes were introduced to clean up the location by increasing storage in the sewerage network, passing more flow to treatment works and install monitoring equipment.
As part of the overall scheme, a sewage treatment works at Combwich Wharf, along the banks of the River Parrett, which feeds the bathing area, needed to be replaced with a pumping station.
This involved a complicated operation to decommission the existing site, including its inlet chamber, storm tanks, submerged filters, pumps and other equipment before building the new station within the footprint of the existing site. The new facility included a new dry well chamber, reinforced concrete base, and a large glass-fronted storm tank.
As Wessex Water's pumping solutions framework partner, Selwood was responsible for developing and installing a temporary overpumping system at Combwich to handle sewage, bypassing the site while the works were carried out.
Early involvement was needed to ensure smooth delivery of the project, with senior engineers in Wessex Water's in-house design team contacting Phil Inglehart, framework manager at Selwood, for an initial site meeting a year ahead of the project.
A site visit revealed that a system was needed to handle a minimum of 150 cubic meters of storm storage, directing the flow to a sewage works at Cannington with the ability to slow down the flow at times of high volume. The site also needed full monitoring through on-site and remote telemetry.
Selwood's remote cloud-based telematics tool, branded SelWatch, provides users with round-the-clock updates including information on GPS pump location, fuel levels and consumption, engine efficiencies and servicing status. Using the portal, customers can securely log in from anywhere in the world to see live pump data and receive system alerts that flag up changes and highlight potential issues. 
For Combwich's installation, various options were considered, including the use of diesel-driven pumps and the construction of an underground chamber to house submersible pumps to be powered by duty/standby generators.
It was identified during site meetings that with clever planning and selection of pump and control panels, it would be possible to run the duty pumps on dry well stands from the existing site mains supply. This was backed by a standby generator with automatic switchover in case of mains failure.
This saved the client money by eliminating the need for any civil engineering works, reducing the quantity of hired equipment and eliminating fuel usage to zero, and also satisfied environmental considerations due to the sensitive nature of the site location.
A detailed storage plan was proposed by Selwood and accepted into the overall scope of works. Selwood has a partnership with Rain for Rent International to supply large mobile storage tanks. These tanks, capable of storing up to 70,000 litres, were delivered and positioned on site without the need for cranes.
Selwood's in-house installation teams then used 22kW super head non-clog electric submersible pumps, which could match the relatively small flows required while providing the required head to overcome the existing rising main feeding the sewage treatment works at Cannington. All the pumps were controlled by the latest technology inverter and ultrasonic control panels to manage the flows to the client's requirements.
Ingleheart said: "Integrating and working closely with designers, consultants, operations and the project management team, we had a detailed understanding of the site-specific requirements. This enabled Selwood to provide the most robust, trouble-free and commercially beneficial solution to our client."
Wessex Water site manager Matthew Paknejad said: "It was a comprehensive and well-planned installation which minimised the need for user intervention."