Calmer waters ahead
Despite a tumultuous year for Mouchel, Jamie Woods (right), operating group director for regulated industries, tells Natasha Wiseman he is optimistic about the future for the consultancy's water business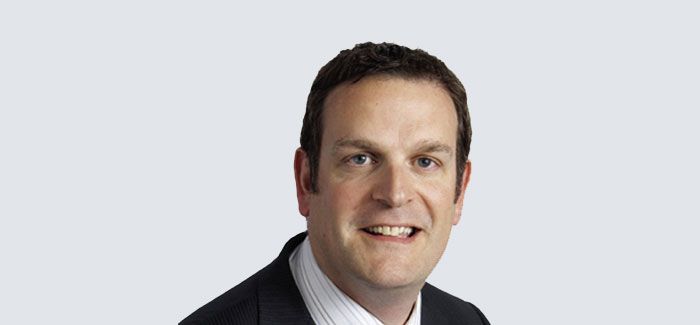 The infrastructure and business services group, Mouchel, suffered a rollercoaster year in 2011. There was an early takeover tussle between the company and contractors Costain and Interserve, which failed to secure a sale; a swift change in management following a £4.3M auditing error in October and, in December, announcement of £64.8M pre-tax losses and an emergency debt deal.
"It's been a difficult year, in fact it's been a difficult two years," says Jamie Woods, operating group director for regulated industries. "The end of the AMP cycle hit harder than normal, compared with other AMPs and that followed with the wider economic climate."
He adds: "We've been very internally focused towards driving costs down to right-size the business and I think on the whole that's now been done. Part of the major issue with our results was on the management consultancy business, so that has given us a particular hit on the balance sheet and on our exceptional items."
However, Woods is optimistic about the future of the company's water business, and does not anticipate any further job losses.
"We're probably 12 months ahead of the other businesses [in Mouchel]," he explains. "The AMP5 cycle started for us as the other parts of the business were struggling with the economic cycle."
For the first time since the merger of Mouchel with Parkman in 2003, a focused water operation has been put together, in preparation for AMP6. Woods says that this has been an 18-month process, and sees it as a trend among consultancies. Taking up his current post in January 2011 after 15 years as a chartered civil engineer, starting out with Parkman, his first undertaking was the sale of the gas pipeline and rail business.
"We're now very much a focused water and environment business," he says. "Design was separate from asset management," he notes, "and I thought that was wrong, so when I got the chance, I put it together."
Asset management
Announcing a major asset data contract with Northern Ireland Water, Woods says this is an area of business he sees growing "on a grand scale". Water companies will need to be much clearer on their asset data, he says, "and you can see them all warming up to that."
He explains that asset tagging and asset data collection will be vital because the utilities "need more data, more often, to make smarter decisions." He points to Thames Water's decision to collate all their data into one system, "so there's one version of the truth", as the direction of travel for the water companies. Anticipating the Government's white paper on water, which was finally released the following day, Woods says it will be the biggest change since privatisation.
"I think we'll see Ofwat becoming less bureaucratic," he forecasts, however, he does not believe the change will go far enough to end the 'boom and bust' generated by the periodic cycles, which will remain a concern for suppliers. The company strategy is to focus strongly on the day-to-day operational contracts to help mitigate fluctuations in asset management and project management work.
"I know excellent water engineers that don't work in water anymore," he warns. However, the consultancy is strengthening its own skill base with initiatives like the Mouchel Urban Drainage Academy, (see WWT, November 2011), which Woods says help in winning tenders and keeping staff loyal. He acknowledges that the internal difficulties at Mouchel have given the company additional recruitment challenges, "but we are growing the business," he affirms, and actively recruiting in the South-west.
Innovation
Woods says that he anticipates a growth in smart metering in the water sector. Mouchel has undertaken the odd trial for water companies, "but with the white paper, I'd expect to see that starting to come through," he says.
Also, technology initiatives like the Floran filter cleaning technology successfully trialled with Thames, are maintaining the consultancy's reputation for innovation, earned from the TAG initiative started by Mouchel. The scheme is now run by Isle Utilities, but Mouchel maintains a seat on the board of TAG and gets to see the innovations as they emerge.
Climate change is a significant driver for all Mouchel's clients, "They don't have too much choice," he says. However, he says that the scale of commitment to date has been "a mixed bag". He is proud of the Derceto project undertaken with Northumbrian Water's to help reduce their energy consumption and praises Thames Water for its plethora of ideas.
Woods also sees innovation in the way contracts are delivered as being a key area of change, noting that they are becoming much more performance-based. He gives the example of the Thames Water output based leakage contract, where "we take a little bit more of the risk, but have an opportunity to out-perform."
Supply chain
Woods believes that the squeeze on the supply chain that occurred in AMP5 is unlikely to abate in AMP6, "but there'll also be consolidation," he says, "with some multi-disciplinary consortia coming together."
He adds: "I think the D&B [design and build] contractors need to have a think about where they want to go, because there will be a drive towards more opex and capital maintenance, rather than pure capex and pouring concrete. So there will be a change in AMP6 on the back of the white paper."
Customer service
I ask Woods how companies can better engage with their customers, to help meet their targets. He points to the Service Incentive Mechanism (SIM), which means "Water companies have no choice but to engage much more with their customers in a positive manner." He says the jury's out on whether that's going to work. He sees the recently transferred private sewers as another monumental change for the industry and a big issue in how water company SIM scores will be affected. To minimise the risk, "They need to be efficient operationally and they need good data," he asserts.
Outlook
Despite the challenges Mouchel faces, Woods remains positive. A new role for a partnerships and innovations director will soon be announced.
"Client relationships are key and I want to be part of an innovative supply chain rather than just providing bums on seats," he says.
"I view Mouchel as well known and strong in operations, well known and strong in asset management and I think one of the areas we can improve is our design contracts. I am expecting us to have a much bigger business and we have plans in place to get there.
"I want to make sure that we are absolutely aligned to our clients and in a supply chain that's aligned to our clients and we have started that work."