Bring up the pipes - virtually
A greater spend on buried infrastructure in AMP6 will change the nature of these projects says John Tattersall, director of technical solutions, Black & Veatch. Here he reviews some of the approaches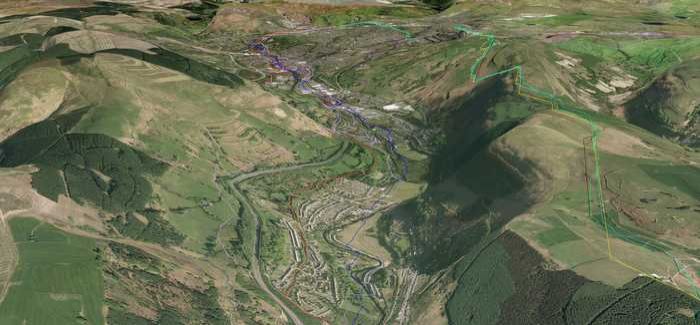 Ofwat has signalled that, for AMP6 (2015-2020), the water companies must have a clear focus on the service to the customer, both domestic and non-domestic. This is likely to be closely coupled with the government's affordability agenda.
In addition the regulator is seeking to move to considering investment decisions in terms of totex, rather than separate capex/opex splits. Unlike previous AMPs, there are no major initiatives requiring significant environmental or water quality improvements which would drive quality programmes.
As a consequence AMP6 is likely to be heavily biased towards providing customer benefits by either enhancing or maintaining/ensuring stable service. The drive to ensure and improve the service to the customer will lead to an increased focus on buried infrastructure networks: reducing interruptions to potable supply and cutting incidents of sewer flooding, for example.
These are among water company activities which impact most upon customers and create the largest number of complaints. Overall indications from Ofwat regarding the latest periodic review process (PR14) are that AMP6 capital expenditure in England and Wales will remain at the same level as AMP5. The focus on service to the customer is expected to reduce the average size of projects, but increase the number.
Expenditure
The AMP5 determination catered for an expenditure of £21.87Bn in England and Wales. At 2009/10 prices this represents about £1,500M per year for the buried infrastructure component of water services and at least £1,250M per year for buried sewerage infrastructure.
The buried infrastructure programmes for Scotland and Northern Ireland are running at about £200M and £100M per year respectively. The overall size of the investment in the UK water industry's buried infrastructure is therefore currently about £3.0Bn rising to about £6.0Bn by 2030.
In AMP6 it is anticipated there will be increased buried infrastructure expenditure on:
Sewer replacement, rehabilitation and local CSOs. Flooding, and in particular wastewater flooding, is reported to be a primary area in which water company customers want to see improvements. This will include work such as unsatisfactory intermittent discharge and catchment management schemes
Expenditure will continue on water infrastructure/networks to maintain customer service (SIM Scores) in terms of interruptions to supply and quality
During AMP5 Black & Veatch has seen a number of approaches to infrastructure projects and programmes which we believe are particularly suited to meeting the drivers for AMP6. The techniques outlined represent just some of the strategies water companies will need to deploy to successfully deliver their AMP6 programmes. It should also be noted that water companies are not a homogenous group, so while the techniques discussed will be suitable for some companies, they will not be right for all.
GIS
Geographic information system (GIS) technology has been used in an innovative manner to help minimise the impact on customers during the laying of a 10km water main through a major English city. The Project Risk Optimisation Visualisation Engine (PROVE), was developed to represent visually the client's entire programme of work in the city spatially and over time.
In essence it was possible to see where on-the-ground work occurred, or was planned, for any given time; past, present and future. Where customer outcomes are to the fore, this sort of tool can help significantly in the management of disruption and reducing the impact of work.

PROVE's databases included information about customers with special needs, both domestic and commercial, as well as vital community resources such as hospitals and schools. By combining this information with a risk rating score, it was possible to readily assess the consequences of activity on the ground.
Because the tool carried information of historic as well as forthcoming work, it highlighted which areas of the city were subject to intensive activity and enabled co-ordination of separate projects in a manner that reduced disruption. PROVE is based upon software widely used across the water industry such as Microsoft Project and Access, as well as Google Earth.
Pipeline routing
GIS technology is also at the heart of the Pipeline Routing Optimisation Method (PROM). The method is currently used by five water and sewerage companies. Looking toward AMP6 the method's ability to quickly generate pipeline routes that reflect specific priorities is likely to be useful at a time when outcomes need to reflect a range of differing customer priorities.
PROM allows different weightings to be assigned to factors which affect pipeline routes: environmental designations, geology, buried utilities, hydrology and pumping requirements, for example. Weighting can be customised to reflect things that customer consultations show are valued. The method quickly provides high-level routes which rapidly broaden choices at the optioneering stage.
Another example of technology which enhanced customer experience during the urban main project discussed previously was the use of non-intrusive mapping surveying. The number of trial pits typically required for detailed design along a 10km, large-diameter main is undesirable on a route through a congested urban environment.
The disruption resulting from so many excavations to establish the nature of buried services along the route becomes too great. The use of non-intrusive mapping – ground-penetrating radar and electromagnetic scanning, for example – greatly reduced the need for trial pits at design stage.
Non-intrusive surveys were undertaken at 60 major road junctions along the route, with trial pitting only used where additional information was required. Fewer than ten pits were dug, compared to the 100-plus which a more standard approach would have necessitated at this stage in the project.
Rehabilitation, rather than laying new buried infrastructure, is another approach likely to see greater uptake in AMP6. In addition to reducing disruption to customers, no-dig rehabilitation commonly has a lower carbon footprint than open-cut. Already an issue, carbon accounting is something which will increase in importance in the coming AMP.
Carbon reduction
For one client no-dig has become the solution of choice for an AMP5 mains renewal programme. The primary driver is carbon reduction.
The experience on this programme has been that once carbon accounting is properly incorporated as a driver, no-dig becomes a more appropriate option than open-cut. The main exception is in open country.
Rehabilitating assets through techniques such as sliplining and pipebursting has engendered significantly less carbon than the excavation, backfill and HGV movements associated with open-cut. Where open-cut has been used on this programme, pipe has been laid – where possible – in verges, again to cut the carbon bound-up in excavating hard surfaces. PROM's ability to incorporate Google Streetview has assisted in this element of the programme by allowing rapid, remote assessment of the suitability of verges for pipe-laying.
Water quality
For quality schemes dealing with taste and odour from coal-tar lined pipes, the no-dig approach, coupled with careful programme planning, has greatly increased productivity. At one stage 800-900m per week of mains were being relined, compared to 40-50m per week being replaced using open cut.
With the regulator putting greater store on customer experience in future, this type of approach is likely to receive significant interest. Dealing with sewer flooding will become an imperative with the shift of emphasis to customer experience.
One client's innovative AMP5 approach to sewer flooding, focusing on reducing the amount of surface water entering the system, may well become more widely adopted during AMP6. The client demonstrated to Ofwat that reducing the amount of surface water entering the system, as opposed to increasing the size of pipes and storage facilities, offered a more sustainable long-term solution.
Central to the success of this approach has been the ability to model accurately what is taking place in entire catchments, and the performance of the assets within them. Here too specially developed GIS tools have been vital.
Data
Historical data has helped identify the areas suffering the most problems. Combining this with detailed catchment modelling has made it possible to consider addressing the source of the problem generally associated with the inundation of flows. Targeting model detail and adopting a risk-based approach ensures that schemes are prioritised to deliver maximum customer benefit.
In many instances the outcome has been a sustainable urban drainage scheme (SUDS) as opposed to the traditional approach of expanding network capacity to cope with greater flows. A variety of SUDS are being considered, which include improvement to streetscapes, use of vegetation and retrospective soakaways. Solutions are focussed on taking water away from the sewerage system and tackling the root cause of many problems.
The decision as to whether it is appropriate to adopt the type of innovative approaches outlined above, rather than use more conventional methods, has to be based primarily around trust. In the client/supplier relationship, it is when technical excellence is allied to trust and collaboration that the environment for innovation comes to the fore. It is by fostering trust and collaboration, more than technical excellence alone, that the supply chain can best enable innovation for AMP6's buried infrastructure programmes.