Blog: The Good Life... a more innovative world?
Being self-reliant brings about a more open attitude to technology and a willingness to adapt and innovate, discovers George Taylor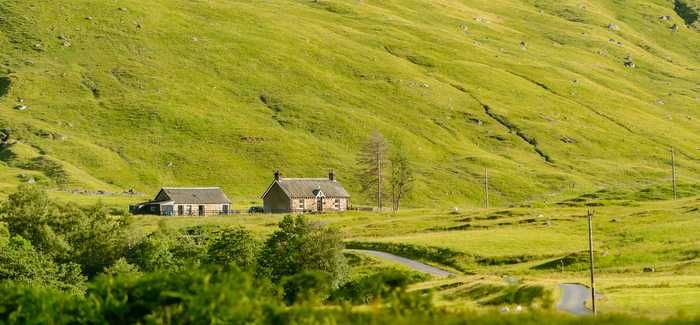 Every year, usually around November, the Taylors take an all-too-predictable trip to Scotland. The weather is pretty unpredictable, most of the touristy things are shut and hours of daylights are limited…. we love it! (well I do! maybe I should ask Mrs T) Anyway - this year has been no exception, slightly earlier than usual and making the most of the last year without planning around school holidays, we went to Aberfeldy in Perthshire. To spice things up a little we decided to go, literally, off the beaten track and rented a place in the middle of nowhere!
Amongst the many interesting things about this cottage was that it was properly "off grid" - it had its own water supply and septic tank, wood burning heating system and some renewable and alternative power generation (although there was a mains connections) - ironically the only "on grid" service that the properly "relied on" was broadband - which was considerably faster that mine at home.
Now I don't know about you - but I tend to romance over the thought of living the good life, making my own strawberry jam, roasting boar on a wood burning stove and being generally self sufficient, but I never fully get there. What struck me here was the relative ease with which this had been done. Maybe it is just out of necessity - but a conversation with our hosts revealed an enlightened and relaxed approach to providing their own services - it's not often you indulge in conversations about the reliability of "the pump in the well" or how good the UV plant has been since it was installed. Also noted were the signs warning: not to abuse the toilet system as they were on a septic tank - these are all things that I would expect to talk about during a day at the office in the water industry - not with my hosts on holiday in the highlands.
What I took from this is how necessity drives the need to innovate or adopt new technology - even for the "layperson" We have been laying pipes since the Romans and whilst I understand the very real need that drives this - I wonder if the time has come to think even more about how we provide for this basic human need….
I have a slightly unhealthy interest in Psychology and was interested to learn more about living "the good life". Like most I have associated it with self sufficiency - largely born out of watching Tom and Barbara in the 70s sitcom of the same name - however there is more to this, and perhaps where I finally get to the point. Psychologist, Carl Rogers describes the good life as: "a range of characteristics, attitudes and behaviours…. and people who are fully in the stream of life….staying wholly present in the moment and remain fully open to the possibilities offered by each moment. Individuals live in an environment of constant change, yet frequently and all too easily, people….. create constructs of how they think things should be..."
Now I might be reading more into what Carl Rogers was proposing and I don't think he was was specifically thinking about water or innovation when he proposed his theories, but for me we should think about being more open to alternatives and living "the good life"…..pipes might be a good place to start…!