Blog: Happy Birthday, WaterAid
In a new quarterly blog, Rob Fuller, Water Sector Advisor at WaterAid, looks at how WaterAid is working with the UK water sector to achieve the shared vision of safe water and sanitation for everyone everywhere by 2030.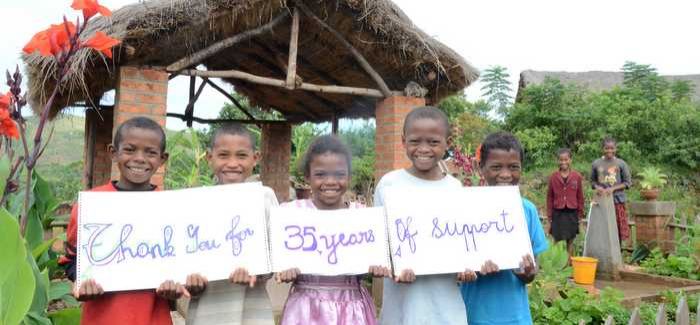 Happy Birthday WaterAid! On 21 July 1981 - 35 years ago today - WaterAid was officially founded by a group of leaders from the UK water industry who came together to discuss how the industry should respond to the global water and sanitation crisis. Together they set up a charity to fund clean water and safe sanitation projects in some of the world's poorest communities and thus WaterAid was born.
Those 35 years have seen massive changes for both the industry and WaterAid. In 1981 who could have envisaged the impact that privatisation, massive capital investment, environmental regulation and new technology would have? Equally, at WaterAid we have seen the support from industry fundraising grow from £25,000 in that first year to a phenomenal £19 million last year raised through the combined efforts of the industry and their customers. And that is before you add in the value of the amazing support for our advocacy work and campaigns, participation in our staff development schemes and delivering talks to local schools and community groups.
And yet throughout those huge changes, the one constant has been the strength of the unique partnership between the water industry and WaterAid. And I do mean unique – no other charity can boast the support of an entire industry, from the water companies, their partners, suppliers, the regulators and trade bodies, and over such an extended period. This support is at the heart of everything we do here at WaterAid and is something we never take for granted. And it will continue to be critical to our future success. Despite all we have achieved together, there is still much to do and little time to do it.
Last September, the world committed to eliminating extreme poverty by 2030 through the signing of the Sustainable Development Goals (SDGs), including a dedicated goal (Goal 6) to ensure sustainable access to water and sanitation for everyone, everywhere. Responding to the SDGs presents a massive challenge and a massive opportunity for WaterAid and demands that we work in very different ways.
I'll be touching upon how we are approaching this in future blog posts but to give one small example, on Saturday I returned from Malawi where I spent the week with a group of supporters from Thames Water. We were visiting two small towns they will be supporting over the next four years as part of the newly launched Thames Malawi partnership. A key focus of this new partnership will draw upon the skills, experience and knowledge of Thames employees and their partners to help develop the capacity of water utilities and other authorities in Malawi, to improve their services and respond to the many challenges they face. What struck me once again on the visit was the passion and commitment shared by water professionals around the world, regardless of the very different contexts in which they operate. It reaffirmed my belief that, with the continued backing of the UK water industry we really will reach everyone, everywhere by 2030.
Find out more about WaterAid's partnership with the UK water industry at www.wateraid.org/uk/waterindustry