BIM: Managing Information Better
NM Group has just earned verification from BSI for working at BIM level 2, but according to Gary Ross, Head of Digital Transformation, it is just the start of a journey for the multi- disciplined national contractor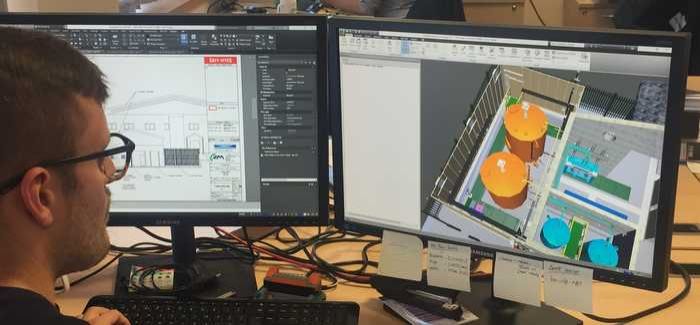 The benefits of Building Information Modelling (BIM) have long been acknowledged: using technology-enabled processes to give everybody involved in a project 'one version of the truth' that can be shared and perfected before construction work starts, results in a smoother, quicker, construction process with less scope for mistakes, disagreements or delays.
Despite this, the water industry and its contractors have been relatively slow to embrace the promise of BIM. Few companies have yet proved themselves BIM-capable by earning BSI accreditation at level 2 – the standard which covers all the key processes that take place between the start of capital expenditure on a project and project handover.
Having been a keen advocate for digital engineering most of his career, Gary Ross, NM Group's head of digital transformation, is better placed than most to talk about the benefits and challenges of implementing BIM. He was involved with the government's initial efforts to promote BIM in the mid-1990s, and has chaired regional groups of companies on the subject; he has worked for a major supplier of BIM software, and as a consultant to many construction and engineering companies and customers. He joined NM Group in 2016, and has just helped the company achieve BSI verification for working at BIM level 2.
So why has the industry found implementing BIM such a struggle? Ross says that there are three things that are central to making BIM work - having the right data, the right processes and the right culture. He says that when he accepted the job at NM Group he was impressed by both the culture and the systems in place for gathering and retaining data – and felt that "if I can't make BIM work there, I can't do it anywhere."
"BIM is nothing without the data to back it up. If you have unstructured or missing data, you end up having to create data to meet a deliverable, and then you are facing an uphill struggle," says Ross. "Data should be an automatic outcome of what you are doing. A lot of construction firms have spent a long time in the dark ages when it comes to IT and structured data collation, and most companies I've seen around the world haven't got nearly enough data that is structured."
Culture change key
While technological barriers have also previously held back BIM back – with different versions of software which were as incompatible as VHS and Betamax – Ross feels that this has now been largely addressed and cultural factors are more important.
"To become level 2 you have to perform to a standard set of procedures, and there's a structure around the way you transfer work between different people. Everyone's role is laid out, with their actions and the approvals process, and it formalises the whole thing – there are no corners that are able to be cut. To me, it's always been complete common sense, but getting an industry that is used to cutting corners to do it properly, remains a major task for most businesses.
"If you've been used to doing things in an old way, or a shortcut way, then when you price up a project, you price in those shortcuts. So it is a bold move to say – no, let's do it properly – even if it takes a little bit longer and costs us a bit more in man hours. There can be a push back on that, because it's a big culture change. But the outcome is better, because we are more efficient at the end of it."
Zero to hero
Ross praised the culture at NM Group which he said had allowed the company to go from "zero to hero" on BIM in a relatively short space of time. One of the keys has been working with external partners – whether suppliers, subcontractors or customers – to educate them about the BIM level 2 process. It has held both one-on-one sessions and quarterly collective sessions to discuss the process and meeting the new expectations; the company is willing to spend time and money on 'hand holding' suppliers who need a greater level of support, Ross adds.
Water company clients have become very enthusiastic about BIM in the last couple of years, but sometimes do not appreciate their own responsibilities in terms of maintaining the data created from the process, says Ross. Integral to the BIM approach is that asset owners will keep and maintain the BIM data so that it can be used when future work is required on that asset – which might involve a timespan of decades in the case of water companies.
To correct the misconception people have that BIM is all about design and construction, Ross prefers the term 'Better Information Management' rather than 'Building Information Modelling' as an acronym for BIM. He believes this will help people move quickly into the mindset required for BIM level 3, which concerns information relating to assets that are already in the ground, and how they can be maintained and/or modified.
"This could be the future for the construction industry. After all there's only so much new ground we can build on, and so perhaps the industry needs to concentrate more on what's there, and how we can effectively manage it. Certainly NM Group has taken the view that we want to be maintaining the projects on behalf of clients – rather than waiting for the client to say that there's something wrong and asking us to fix it."
NM Group is striving to bring about more offsite manufacture in water industry projects, which will be assisted by its emphasis on BIM. Ross stresses that achieving level 2 accreditation is only the first step in an ambitious ongoing journey for the company, and that BIM will soon become the industry standard. Those who are not already thinking ahead to the next stage will get left behind.
"BIM is not an outcome, it's a process, it's a way of working, it's a culture. Everybody needs to sign up to that process of managing information better. If just one link in the chain doesn't buy into it, then it doesn't work," he concludes.
-NM Group was named Water Industry Contractor of the Year in the Water Industry Awards 2018, held in May and organised by WET News and WWT.
-This article appeared in the August 2018 issue of WET News magazine.