Below ground plastic pipes: Strength through flexibility?
Below-ground plastic pipes are known to be flexible under loads, but this can be an advantage rather than a drawback when a sewer or drainage system is considered in its entirety. Here we look at some practical advice for designing pipelines for longevity and resilience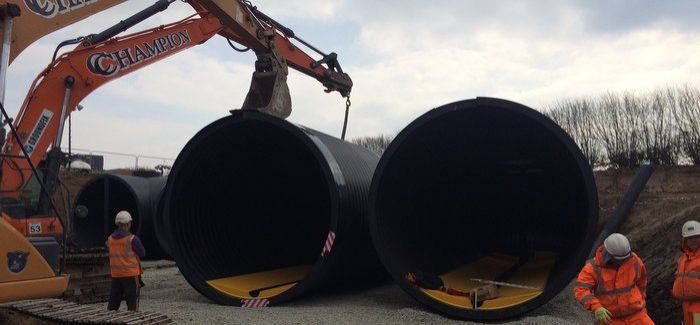 Case study: Large diameter HDPE pipes
When a leading UK housebuilder wanted to ensure a proposed stormwater solution would withstand the worst case predicted storm events, it turned to large diameter HDPE plastic pipes and gained considerable additional benefits.
In the Bedfordshire town of Houghton Regis, the Regent's Place large-scale residential development of 180 houses required a below ground engineered stormwater drainage solution, able to store up to 2,052m3 of surface water run-off to cater for both '1 in 30' year and '1 in 100 plus 30% climate change' year storm events. Nearby public spaces meant a limited footprint available for drainage design, and it was also necessary to work with the sloping gradient found on site.
Taking on the challenge, BPF Pipes Group member Polypipe Civils worked closely with the housebuilder and the consultant engineers to design a stormwater solution that met site requirements and adopted elements laid out under a Section 104 agreement for the approving water company, Anglian Water.
The attenuation tank supplied for the Regent's Place project boasts a 3m diameter offset vortex flow control chamber which controls discharge water from the tank at an agreed rate of 10 l/s, so the local watercourse is not overwhelmed. To control additional flow when required, the chamber also had penstock flow control.
Over 500m of pipes forming 14 pipe runs in 2100mm diameter were supplied. The technical team engineered the pipe to ring stiffness SN2 to meet ground conditions, burial depths, native soil pressures and loading on-site. The system was tested to pass required deformation and buckling checks in accordance with BS EN 1295-1.
To accompany the pipe runs, the system incorporated 34 pre-fabricated modularised fittings which included 90° bends and 'F', 'T' and double 'T' fittings to fit the limited on-site dimensions perfectly.
The socket and spigot nature of these engineered fittings kept jointing to a minimum, allowing easy pipe alignment and a speedy install using electro-fusion jointing.
In order to make maintenance work less strenuous and safer overall for installers, the pipe supplier also provided 10 access manholes in 1200mm and 1800mm diameters for the use of engineers. 
Keith Millard, Senior Engineer at Taylor Wimpey said: "This stormwater attenuation system was designed to not only fit the available area, but it also saved us time and costs on the installation by having the system and fittings delivered as one-piece modular units ready to install."
by Caroline Ayres, Director, BPF Pipes Group
With increasing pressure to minimise disruption in highways, the need for trouble-free drains and sewers is well understood. But how does the flexibility or rigidity of the chosen pipe affect the performance and reliability of the system?
A flexible pipe is, by definition, a pipe which will deflect when subjected to external loads. It is a commonly held assumption that any deformation of a plastic pipe is inherently detrimental and indicative of failure of the pipe to perform properly. This is a fundamental misconception. Flexibility in pipes is a desirable attribute. Understanding how the flexible pipe relates to its neighbouring soils – thereby establishing a functional pipe/soil composite structure – is key to successful design.
How does a thermoplastic pipe perform under load?
A buried pipe and its adjacent soil will attract earth loads and live loads in accordance with a basic principle of structural analysis: stiffer elements will attract greater proportions of shared load than those that are more flexible. In other words, the more flexible pipe will attract less crown load than a rigid pipe of the same outer geometry. This is because the rigid pipe does not transmit the loads into the surrounding material but the loads are transferred through the pipe wall into the bedding and, therefore, are subject to much greater load than the flexible one.
How can this be a benefit?
In general, flexible pipes rely upon their deformation from imposed loads to mobilise the support of material on both sides of the pipe. Their primary structural function is distributing the imposed vertical loads to the surrounding soil and bedding material. Only a small portion of the imposed loads are actually carried by the flexible pipe itself.
The design of a gravity pipe uses this stabilisation effect of the soil to minimise deflection in the pipe, by constraining it in the horizontal direction, and simultaneously transferring the surface loads being inflicted by the ground above the pipe, traffic, structures etc. to the soil. During construction (the installation phase) the weight of the soil above the pipe will cause it to deflect and this will continue as the soil is compacted (the settlement phase). With good installation these deflections are very small – less than 2%. Thereafter, during the lifetime of the pipe, there is no significant change in the shape of the pipe. In very well prepared ground, the deflection during the settlement phase can be almost zero. The pipe can happily sit there for many years operating as planned whilst withstanding the external loads placed on it.
How does installation affect performance?
Extensive field and laboratory testing was carried out and reported by TEPPFA (the European Plastic Pipes and Fittings Association) in their Design of Buried Plastic Pipes study (1999). More information on the study can be found on www.discover-plasticpipes.com/uk.
During this work, trials were carried out in both clay and sand, and in well compacted through to non-compacted ground. It was, unsurprisingly, found that pipe deflection in the settlement phase depended on the compaction of the ground around the pipe. However, even when reality kicks in and compaction is impacted by weather conditions, change in soils along the pipeline, type of fill available, the measured deflection in a plastic pipe is still well within the practical limits set for the UK (6% adoptable sewers, 5% highway applications) and represents a very large factor of safety compared to the capability of the pipe material.
Clearly, good preparation is always to be encouraged, but the engineering properties of plastic pipes mean that less than perfect preparation should not pose a problem to the final installation.
What about traffic loading?
The loads from traffic and surface loads are taken up by the ground surrounding the plastic pipe. The TEPPFA buried pipe study has shown that when pipes are more rigid than the soil that surrounds them, the pipe itself has to resist all the loading from above.
Plastic pipes, correctly installed with well-compacted backfill material, spread the load to the ground itself – meaning they are subject to lower loads than traffic and weight of soil exert. Once the backfill and soil have settled after installation, traffic loads have no further impact on pipe deflection.
Is designing thermoplastic structured wall pipe installations complicated?
The accepted UK method for the design of non-pressure pipelines is included in BS EN 1295-1: 1997 Annex A. Clear and well-presented supplementary guidance is included in BS 9295: 2010 Guide to the structural design of buried pipelines. This guidance is easily accessible to pipeline engineers and ensures that a good design can be carried out without the need for complex calculations.
Much of the background research has been carried out using complex design and evaluation methods such as Finite Element Analysis. BPF Pipes Group members are active in the UK and European Standards committees which translate the experience developed over the last 30–40 years into practical design methods and guidance.
What about large diameter pipes?
Structured wall thermoplastic pipes in diameters ranging from 400mm to 2200mm have been in use in Europe since 1985 and in the UK since 1995. The size range was extended to 3000mm in 1999 and to 3500mm in 2008.
BPF Pipes Group members who supply these large diameter pipes can help with scheme designs where calculations can be performed to the latest Eurocodes. Experience has shown that using large diameter pipes can equal other more traditional solutions in performance and can offer a range of added benefits as well.
Dr Vasilios Samaras of BPF Pipes Group member Asset International says: "Through extensive and sound research, the benefits of using thermoplastic pipes have been proven. The evidence is irrefutable and by using best practice techniques, excellent long-term performance, asset life and protection of the entire pipe network can be achieved."