Becoming a smart pump buyer
When specifying a new pumping system, asset owners need to be able to answer key questions about their requirements, writes Bjorn Hoffman from pump specialist Tsurumi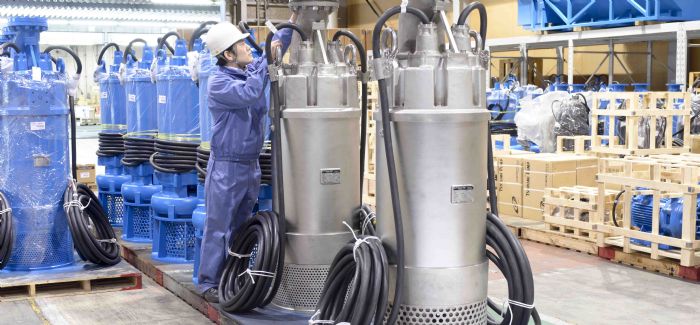 Anyone seeking to buy a new pump for their water logistics system will have to answer a lot of questions before they receive any recommendations from manufacturers.
Here is a brief overview of the key considerations.
1. What needs to be pumped?
This is a fundamental question. Pumps cannot pump all fluids. There are four main groups of water pumps: clear water, greywater, sewage and saltwater. The latter are also often used to pump other chemical-reactive media and are consequently made of durable material. Stainless steel is usually used when pumping drinking water. Tip: Attach anode blocks to prevent corrosion.
2. What pumping volume is required?
The water volume that needs to be pumped (l/min or m3/h) is usually the factor that dictates the required pump output. Each pump covers one range and has an optimum, which is why there are so many types – for instance, Tsurumi has around 800. Pumps for greywater can move up to 30m3/min. Don't forget to take into account the diameter of any pipes through which the pumped volume needs to pass. Tip: Opt for slower pumps because they are less prone to wear.
3. How high can the medium be pumped?
This question is linked to the previous one because the pumping volume will decrease the higher it is pumped. The main factor here is the absolute height difference between the lower and upper water levels (geodetic head). High-pressure pumps can pump up to more than 200m. The same thing also applies if, instead, the horizontal distance is very large. Tip: Sometimes two (identical) pumps can be operated in series if an adapter is used – the second pump acts as a booster and almost doubles the output.
4. Does 'snoring' occur?
This is what experts refer to when not only water but also air is suctioned in; for instance, at removal points where the water level is (too) low in some cases. This is critical for many pump motors because they will overheat very quickly without any water to cool them. Tip: Ensure that the pumps have a dry-run protection feature, which will allow them to withstand this torture.
5. Does the water volume vary?
If the pump is required infrequently, pumps with permanently attached level sensors are the solution because they switch on and off automatically. Electrode sensors are more reliable than mechanical contact switches. Alternatively, an external control unit can be used. Tip: Frequency converters ensure a gentle start-up, prevent pressure surges and balance out multi-pump systems.
6. Is there solid matter in the pumping medium?
This question is particularly important when considering greywater and sewage pumps, each of which can handle only a certain amount of solid matter. If this matter is grainy, for example, like greywater, the filter perforation size in the pump indicates which particles can still pass, some of which are up to 30mm. Sewage pumps become blocked more quickly than other pumps, which is why they need impellers with cutting blades that can even chop up interwoven fibres. Tip: Wherever viscous media are pumped, use mixers in front of the suction inlet to ensure these media flow more freely.
7. What is the temperature of the pumping medium?
Most media are pumped at temperatures of around 40 degrees, although higher values can be expected in processes. In this case, customised solutions are needed. Important design features here are heat discharge process and a seal. Pumps with an outlet at the top or a spiral casing will discharge more heat. Tip: Never operate a pump outside the defined thermal operating limits.
8. What is the nature of the electrical connection?
There are pumps for almost all capacity ranges. The higher the range, the higher the connected load needs to be, and an appropriate connection on site is required. Often the (high!) start-up current of the pump is not taken into account, especially when a power set is used. Most pumps are operated in a single phase with 230V or in three phases with 400V. They are all connected with direct or star-triangle starters. Tip: Use only pumps with APEX approval in potentially explosive areas.
9. How should the pump be installed and operated?
Some pumps may be installed only in a dry environment in the pumping station. By contrast, submersible pumps are operated while submerged in the medium. The maximum submersion depth is stated in the data sheet. Just ask if they are suitable for permanent operation. Tip: Ensure the pump has a centrifugal oil lubrication system because these will work perfectly in either horizontal or vertical installation positions.
10. Should I carry out the maintenance work myself?
Anyone seeking to save money can carry out the most common maintenance tasks themselves on site, thereby ensuring there are no downtimes because the pumps do not have to be returned to the manufacturer for servicing. Therefore, it is always a good idea to opt for modular pumps. Typical maintenance includes replacement of the impeller at the intake opening – only a few screws need to be removed in Japanese pumps. Tip: Nevertheless, opt for manufacturers that have a good service network.
Summary
It is advisable to be well prepared when you talk to pump experts, because having the information about the application and local environment at your fingertips will speed up the process considerably. Then there is the question of delivery time. This might be decisive because only a few manufacturers have large stocks of pumps – most usually produce to order. In general, users should also consider lease options: major manufacturers and dealers will keep available their own stocks of lease units, enabling anyone who is unsure of their exact requirements to experiment before investing.