Analysis: Assessing lane rental's pros and cons
While lane rental may be popular with many, Robin Hackett hears why the majority of utilities and contractors are fiercely opposed to the scheme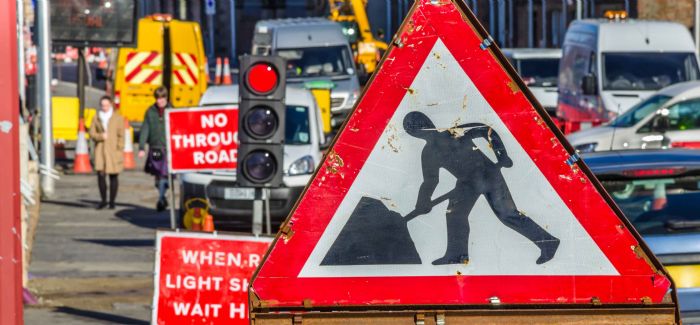 Need to know
The independent Ecorys report, produced on behalf of the Department for Transport, observed the following from the Transport for London Lane Rental Scheme (TLRS):
• Works taking place in daytime fell by 18% in TLRS areas and 11% in non-TLRS areas
• Collaborative work sites increased by 81% between October 2013 and June 2014, involving a 10% improvement in the number of days of disruption avoided, although the number of such sites was described as "relatively small as a proportion of overall works"
• Total serious and severe disruption associated with planned works fell by 42% in TLRS areas compared to a 2% reduction in non-TLRS areas
• TLRS areas raised £3,123,150 between October 2012 and September 2013, with £944,500 from water-related works. Between October 2013 and June 2014, £2,888,300 was raised, with £797,300 from the water sector
The government's lane rental scheme has been celebrated by politicians, the motoring sector and the general public after trials in London and Kent offered indications of improvements to traffic disruption. When the government launched a consultation last year, local highway authorities predictably responded in large numbers to show their support.
A system that allows authorities to charge up to £2,500 per day for 'renting' a lane for streetworks during peak hours was always likely to be popular in many quarters, and it will now be rolled out nationwide, with the first due to be put into operation at the end of next year.
However, as the government noted in its consultation, utilities have been almost universally opposed, and while contractors did not respond in significant numbers, there is little reason to expect there would have been much support from their side either.
Bob Gallienne – chief executive of Street Works UK, which represents utilities and their contractors – says he considers the scheme to be completely unnecessary.
"If highway authorities exercised their powers fully and correctly through permit schemes, you don't need lane rental," he says.
Gallienne believes the reason only five of the 145 responses to the consultation came directly from contractors was that the majority put their opposition across through representative bodies such as his own.
Murray Ambler-Shattock, strategic operations manager at K M Plant Hire & Groundworks Ltd, suggests that may well be the case.
His company had no direct input because, as he puts it, "we're not politicians" but, having had some exposure to the London pilot scheme, his opposition is clear, and he believes contractors are "all pretty much of the same mind".
Ambler-Shattock says: "It's obviously one of those scenarios that was dreamed up by someone who's never worked in civils who thinks everyone is lounging around, sipping a cup of tea and taking far too long to do every­thing.
"As per usual with these things, anybody who vents any kind of reasoned opinion from the perspective of the contractor is seen as a whinger, whereas in reality the scheduling time for a lot of these jobs is inadequate."
In theory, lane rental means the 'promoters' who carry out streetworks are incentivised to minimise peak-time disruption on busy roads through planning, coordination and innovative thinking. In practice, while there is scope to coordinate with fellow promoters when the opportunity arises, it means a far greater reliance on working outside business hours.
"I think it's just another way of getting money out of a utility for doing work," one water company source tells WET News. "At the end of the day, working at night is going to cost us more money than working during the day."
The government said the increased costs for utility companies are likely to be passed on to utility customers, and the source adds: "I appreciate it's all about minimising the impact for customers, but if you told a customer their bill was going to go up as a result, I'm pretty sure they'd say: 'No, we're happy to sit in traffic for a little bit longer actually.'"
Gallienne says one cost model suggested there could be "£300 million of extra costs across the country which would filter through to the consumer".
Ambler-Shattock, though, is not convinced that customers will bear the worst of the costs, with contractors liable to pay for anything in excess of the initial scheduled work.
"We're a tier two at the moment so we're working with the tier ones as primaries," he says. "The principal contractor will supply a contract that says: 'You're doing it, how you're doing it is your problem, we're not interested in any further costs.'
"You have a choice as a provider. You either go over the provided time and then face a penalty, but that means you get a job that takes four days to do right done in four days, or you try to rush the job in three days and if anything goes wrong you're going to be back for a second visit and hit for costs. It's one of those devil and deep blue sea scenarios.
"There's this tremendous uncertainty about the fact that inevitably in these jobs you always discover something you shouldn't when you're digging down. It's almost taken as read that maps are very rarely accurate. There's very often stuff in the ground that isn't mentioned at all in any form of mapping unless you go back to the time it was hand-drawn and microfiched in 1968 or whatever, and no one has time for that.
"If in the process of doing this work we discover some unidentified piece of metal that may be part of an unexploded bomb, or some strange piece of pipework that nobody's got on any of their mappings, we may have to get the relevant people to inspect it and check it's safe, remove it and document it.
"There's factors like this that you can't predict. You read about all sorts of things – guys finding Roman coins and then having to liaise with historians and museums and the Crown even. Sometimes you've got situations where the ground you're working with is in such a poor state that you have to conduct far more work than you were expecting to just to make the surroundings safe.
"It's little things that can nickel and dime you to death."
One source said it results in situations where contractors cannot confidently price the work, explaining: "We could be looking at a breakeven loss in that situation and we're not interested in doing that."
Ambler-Shattock highlights a scheme with Bristol City Council called Active Roadworks that ensures people are better informed about any such incidents, in part through prominent signage. It also helps raise awareness of opportunities for collaboration between promoters so that projects can be scheduled to account for multiple works in the same area.
"Communication is a wonderful thing," he says. "When people talk to each other, things get sorted out. Instead of the public calling a contractor and asking why that hole in road hasn't been touched for two days, you can give them some notification through the Active Roadworks system that the reason is we found something that looks suspiciously like a WWII shell that we weren't expecting to find on the outskirts of Bristol.
"You get all sorts of situations where the public go past a piece of work, there's all sorts of holes in the ground and there's nobody around, but there's a good chance we've had to refer something for consultation and we're not allowed to proceed until we've had authorisation."
The inevitable result of lane rental will be a shift towards night-working, but one contractor tells WET News that the public may not yet be aware of the potential consequences.
"I don't think the general public understand it that well because I've seen several interviews where people have asked why work isn't being done at night or on weekends," the contractor says. "I think if you rolled up next to their residence at 11pm with a 21-tonne digger and started pecking out the concrete, they'd be going out asking why you can't do normal working hours."
Night-working, which brings further expense through sound-deadening screens and low decibel generators, is not always a popular option either.
"Obviously you get an inflated rate per hour to do the night-works but I've worked nights in the past and it's horrible, completely disruptive to family life, absolute nightmare," Ambler-Shattock says. "It might solve the problem, but you've got to have the people who are willing to work at night. And when you need urgent materials because there's a change in the work you're doing, what are you going to do when they don't open until 7am?"
Others have even expressed doubt as to whether the scheme has brought down disruption.
An independent report into the trials produced by Ecorys observed a 42 per cent drop in serious and severe disruption associated with planned works in areas under the Transport for London Lane Rental Scheme (TLRS). In non-TLRS areas, the drop was just 2 per cent.
Improvements were also observed in Kent Lane Rental Scheme (KLRS) areas, where the average duration of works carried out fell to 2.87 days, having been 3.92 days in the 12 months prior to the scheme.
However, while the report, produced for the Department for Transport, did note a fall in the proportion of works taking place during the daytime, it acknowledged it had not established that the schemes were the direct cause of the improvements. Many promoters argued that the primary reasons for the improvements were internal efforts to improve cost-effectiveness and agreements made with the regulator, and that most of the observed changes would have happened anyway.
"The way it's pitched from the government is about reducing congestion, which is the big win as far as they're concerned," Gallienne says. "Clearly there is a strong political wish for lane rental and it's politically seen to be successful in London and Kent. We would challenge that given that the independent review could actually find no causal link between reductions in congestion and lane rental."
The government consultation also found that some local authorities would have preferred to work with existing permit schemes, which were in operation in only 65 per cent of authority areas. Under those schemes, authorities can choose to grant a permit or decline permission for work, as well as apply conditions to a granted permit such as restrictions on how works may be carried out, including times of day.
Permits will remain in use when lane rental is rolled out, and Gallienne says his primary concern at this point is that nothing will be done to address inconsistencies.
"Our real push is to minimise the number of variations in permit schemes," he says. "We are lobbying hard with the Department for Transport and other government departments to say it makes a lot more sense to have a handful of types of permit schemes – a rural type, an urban type, a city-centre type and so forth – rather than the very wide variation we have now."
He says Openreach is currently operating within 90 permit schemes across the UK, adding: "They all have slightly different rules and regulations. That type of thing causes additional costs, confusion, a lack of transparency – a whole different range of problems. If there was a much narrower set, it would be able to increase efficiency and reduce these overhead costs."
Ambler-Shattock, too, is unimpressed with the state of permit schemes. "The whole thing needs a radical shake-up – the regional issues are a headache for everyone," he says. "The permit system is massively out of date. Everyone seems to struggle with it and complain that it's onerous as a process. We do need to get with the programme, start simplifying things and start making sure the timeframes are a little bit more flexible."
Valid as many of the complaints may be, traffic delays are no small problem. The secretary of state for transport, Chris Grayling, said in September that there are around 2.5 million streetworks carried out in England each year, causing disruption that is estimated to cost the economy around £4 billion, so it is little surprise the government was keen to take action.
One contractor, who spoke on condition of anonymity, even told WET News he thought the scheme was a fundamentally good thing. "It's the only thing that stops us or any contractor taking the Mickey out of the general public," he said. "We've got to be aware that it could cost us X amount a day per road. We don't just rock up, dig a hole and then go away and think about something for a couple of weeks and leave the works unattended."
Ambler-Shattock, whose company uses horizontal directional drilling where possible to minimise the need for open-cut works, says contractors are "very understanding and do try to be considerate of the public".
Still, the prevailing view among both utilities and contractors appears to be that lane rental will cause more problems than it solves.
Gallienne says: "There needs to be a simple and effective way of working that encourages coordination but doesn't penalise utilities for carrying out essential work delivering improvements and the extension of the infrastructure."
Ambler-Shattock adds: "It's not a situation where you'd say it's not broke so don't fix it, but this is not the right fix."