Alliances pipe up for innovation
Should water companies radically alter the way they procure and manage their supply chains in AMP6? Thames Water certainly believes so, says Dean Stiles.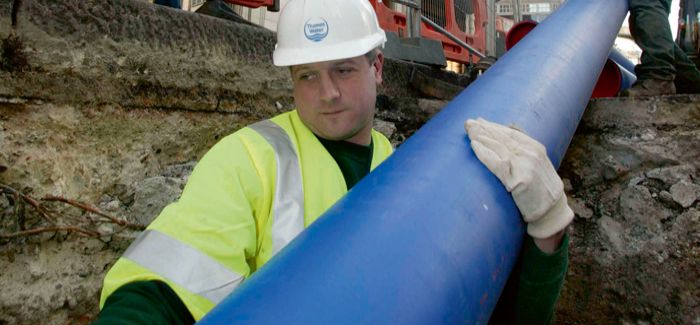 Work driven by the AMP5 round is expected to peak in 2013. But the industry's lament about peaks and troughs inherent in the cycles may end with AMP6. Some water companies are radically altering the way they procure and manage their supply chains with Thames Water leading the way. 
Thames will "completely change the delivery of work" in its 2015-2020 construction programme with a new spending panel. Lawrence Gosden, capital delivery director at Thames Water, says: "We have decided to completely change the way we go about the delivery of work and we are going to form a single yet large alliance, which is quite a change from where we are at the moment."
This new system follows a consultation when Thames Water talked to some 40 supply chain personnel about its future procurement. Thames is adopting an alliance model from 2015, but the alliance team will start planning from May to reduce the potential for peaks and troughs in AMP6 workloads. The Thames business plan for AMP6 will be submitted to Ofwat ahead of the 2014 industry review of prices.
Contractors will be asked to pair with consultants into single design and construct teams, four of which will sit on a new panel that will decide how to spend £2B to £3B between 2015 and 2020. The panel comprises four contractor and consultant teams, a programme manager, Thames Water and a technology innovator. There will also be two non-executive positions for an independent monitor and a representative from small and medium contractors' supply chains.
The alliance is headed by a board that votes on proposed schemes with work carried out either by one of the design-and-build teams, or directly by a supply chain member on an incentivised contract based on the entire programme. Savings made over AMP6 will be shared between the seven members.
"One of the biggest killers of innovation is not having enough time, being right in the middle of the AMP delivering capital output," Gosden says. Starting the process two years earlier allows the time to plan for innovation, he says. "That's what this next two years is about."
Thames needs its contractors to innovate and deliver lower costs. "We have rising asset deterioration and increased investment required, but there is a huge affordability challenge," he says.
"So we have to get way more bang for the buck and investment for the money we can deploy. The way to get that is to innovate."
Thames' existing AMP5 contractors – Black & Veatch, Galliford Try, MWH Treatment, Mott MacDonald, Interserve, Morrison Utility Services, J Murphy, Morgan Sindall, Vinci, Barhale Construction, Clancy Docwra, Laing O'Rourke, and Imtech Process – will carry out work until the end of AMP5 in 2015 when the alliance will decide whether to assign work to one of the four new design-and-build entities, or to award work directly to a supplier. Major projects such as the Thames Tunnel and the Deephams sewage works upgrade are excluded from the new system. Thames hopes that it will overcome the frustration expressed by many suppliers over the difficulty in getting innovative construction solutions recognised.
"We had a lot of feedback about how difficult it is for tier 2 and 3 suppliers to bring some of the value and exciting products they bring into the Thames programme," Gosden says.
"We want the alliance to have a fully integrated supply chain able to reach into tiers 2, 3 and 4 and bring out some of the brilliant ideas and use them on the programme.
"There are people who are brilliant at this. We need the alliance to come on board and really flesh that out."
Alliance working also dominates the approach of Scottish Water and Anglian Water, which have begun their search for partners in the next AMP.
Scottish Water is to appoint two alliance partners and has issued a contract notice to support its future Quality & Standards IV capital investment programme for the regulatory period starting 2015. The programme will be divided into two lots – wastewater infrastructure and water infrastructure – each worth up to £65M annually with an estimated spend of £390M in each lot between 2015 and 2021. Scottish Water says alliance partners can be a single entity or a delivery consortium made up of an individual or multiple contractors and/or design consultants. It is envisaged up to six applicants will be invited to tender for each lot. Successful contractors could be kept in place for the next two regulatory periods under a 12-year contract.
Scottish Water will procure one alliance partner with design-and-build capabilities for the wastewater infrastructure alliance and for its water infrastructure alliance. It expects most of the work under this lot to be carried out directly by the contractor.
Anglian Water's AMP6 framework, valued between £6B and £9B, will require several contractors with work to start in April 2015. The collaborative frameworks to 31 March 2020 will also include an option to extend in the final year to 2030.
Anglian expects its partners to work within an alliance-type arrangement for each lot but it does not envisage successful bidders to form legal entities.