'All for one' in new Thames alliance
Collaboration, behaviour change and early supply chain involvement underpin the formation of Thames Water's new Eight2O alliance. Chief operating officer, Graham Keegan; head of commercial & supply chain, Andy Bull and Thames Water's Gordon Percy reveal the challenges to WWT editor Natasha Wiseman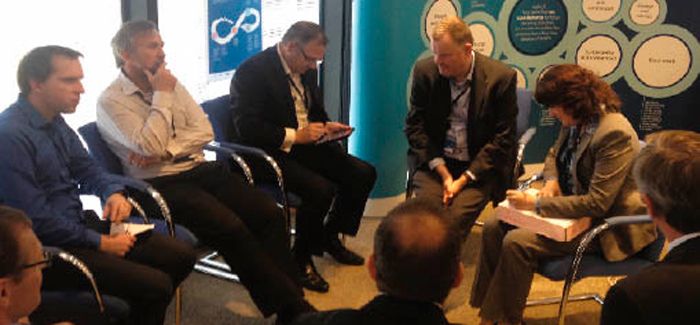 Arriving for a meeting with Graham Keegan, chief operating officer of Thames Water's new Eight2O alliance, and two other members of the leadership team, I am reminded of the Three Musketeers. Moustachioed, as they all are towards the end of the Movember charity-fundraising month, it is not long before I am drawn into the extraordinary tale of how this soon-to-be-tested alliance was forged.
Keegan, formerly Costain's water director, takes up the story: "Thames Water (TW) decided halfway through AMP5 that they wanted to try something pretty different in AMP6," he says, explaining that the utility's asset director, Lawrence Gosden, was the instigator of an approach to try "real collaboration and alliancing".
"He was also very wise to recognise that whilst we as the contracting side of the equation are always looking to impress our clients and get ourselves on to select lists and into successful positions, clients also recognise that in this heated environment they need to put on their best face to attract the best contractors to them," says Keegan.
Rather than being arrogant that the size of the utility's capital programme would be a draw, Keegan says that Gosden "recognised he had to create an environment where the best wanted to come." He said Gosden also appreciated the need for contractors to "get in early" to help with programme management and input at the planning stage, something contractors have been saying for decades.
At the outset, there were three parallel tenders being procured: design and build, programme manager and a technology and innovation provider. However, Keegan says that the tendering process was very different from what had gone before in the water industry: "It was very slick, very professional and very measured and focussed," he said.
Delivery strategy
Taking up the tale, Thames Water's head of delivery for the AMP6 capital delivery strategy, Gordon Percy, explains that the process began just two years into PR14 because the utility wanted to focus early on AMP6 and get the appropriate delivery vehicles in place for long-term relationships. He sees the delivery strategy as a long-term process - 2+5+5 - two years of AMP5 followed by AMP6 then AMP7.
Percy says the benefits are clear: "For the first time in my experience of the water industry, the people who were going to deliver it were going to help plan it."
He says that the change in strategy will deliver huge benefits around efficiency, health & safety and value-for-money. Market consultation prompted a change in direction so that the company's delivery was orientated much more around customer experience, innovation, sustainability and collaboration.
Percy says it was identified that the supply chain, which has now been given the tag 'supplier community', wanted to get in earlier and wanted to move up the value chain.
"The supplier community was really keen on doing it differently and was really keen to be part of, what they deemed to be, industry-leading success. So that was a motivator for Thames."
Percy continued, "There's about £400Bn of investment going into UK infrastructure between now and 2020, so whilst this is a huge programme, we have to be attractive, because there's plenty of other work out there. It's not a given that other organisations will want to work for Thames and it's not a given that the best of these organisations will want to work for Thames, but we needed that."

Supplier perspective
Andy Bull, head of commercial & supply chain, Eight2O, put the bid together for Costain and says that it was "completely different" to any bid he had previously undertaken. Previously the utility had drilled down to the price of every last detail, entering it all on a database to get the 'best price'.
"This was done over a four-month period," he elaborated, "it was much more cost-effective and a very structured process."
He said the first hurdle was health and safety. TW effectively said - if you haven't got the best health and safety, you're not in the running.
The next consideration was financial backing for the scale of programme being delivered, and so, through a structured process of elimination, companies not meeting basic thresholds could be "dropped out really quickly".
Then the whole Thames team, including the chief executive, went out on site to see reference projects.
"It was really important to understand how far the leadership had got through the organisation," said Percy. "It's easy to see it on paper, but to go and talk to the guys on site - and see whether they understood it - is what we're trying to achieve."
The tendering companies also had to identify internally the individuals who would be best at delivering the collaborative goals of the client and submit their CVs at an early stage.
Behavioural measurement
The procurement process also involved director interviews and a two-day workshop for all selected staff from the 40+ tendering companies at the Madejski Stadium in Reading. In fact three separate two-day workshops were required to get all the people from all of the companies - including Thames Water - through.
Keegan says that the dialogue had made it clear that for Gosden and his procurement team, the creation of a collaborative environment was going to be measured on a 'behavioural' basis, in terms of the management approaches of the individuals, companies and company cultures that would be involved.
"I think we could all recognise from what Lawrence was saying that this was joint ventures going to Premier League standard and beyond," he said.
Keegan says that the biggest surprise was that tenderers from competitor companies were put together to see if they could work collaboratively.
"There were naturals who really enjoyed doing it," he reveals "and there were other people who didn't like being put through that process." Participants might think they could manipulate the process, he says, "but when you're here for two days of intensive measurement and management games, your natural behaviour will come out – and sure enough - it did!"
Building the alliance
At the final hurdle, Bull explains, Thames decided how many companies they wanted from each competition and merged everything together. The eventual outcome was an eight-strong alliance comprising five groupings which was announced on 14 May 2013.
These include two design-build joint ventures consisting of Costain, Veolia Water & Atkins (CVA) and Skanska, MWH & Balfour Beatty (SMB), as well as a programme manager in MWH and a technology innovator in IBM, plus Thames Water as both client and partner.
Once the alliance was formed, Keegan says, the first task was to validate Thames' business plan for AMP6. The partners applied their systems, knowledge and a massive amount of data and were actually able to confirm the plan by July 2013.
He continues, "We then said, there has to be some added value we can bring by being here two years ahead of the start of the programme. We've got time to think of innovation, we've got time to test a few things out and on top of that we were able to offer an efficiency plan.
"We were able to give a number to Thames that they were able to put into the wholesale business plan and that saving is going straight back to customers."
Percy says that this is "a fundamental part of what the regulator is asking for – business plans that are accurate, robust and thorough."
The utility's business plan had to pass through the corporate governance of Eight2O and all the alliance's partners and was finally submitted by Ofwat's December deadline. At an estimated £2-3Bn, Thames Water's plan, which is yet to be decided by the regulator, is likely to the UK's largest.
Keegan says that the period the alliance now has before the start of AMP6 in April 2015 is being spent identifying ways to minimise impact on customers and make further efficiencies in operations and through innovation.
"We're going to be looking at data, we're going to be looking at off-site manufacture, we'll be looking at the programme management," he says. "A lot of the analytical stuff is where IBM will be helping us."
Celebrating the breadth and strength of skills and knowledge that Eight2O is bringing to Thames, Keegan says that he wants people working for the alliance to benefit from the opportunities it brings.
"This is a 12-year contract," he says, "it's going to be a long journey, it's going to be a business for that length of time, so we have to be prepared for that. It's not a limited company, everyone is going to be seconded in for a limited period. So we have to treat our staff really carefully."
He concludes "We hope that when they see Eight2O on their CV, it's as attractive as saying 'I was involved in the Olympics'."
It could not be clearer why the three men before me have been handpicked for their skills in openness and collaboration. They have clearly overcome an onslaught of modern-day management trials to earn their posts. 
However, for these now clean-shaven Musketeers and their teams, the biggest challenge is yet to come – delivering a 12-year programme for the UK's largest water company serving 27% of the UK's population. All for one and one for all!