Adopting a fresh approach for sewerage
Mandatory adoption of sewers has arrived and demands fresh thinking by house builders and contractors, says Terry Hill, technical support manager at specialist water management company JDP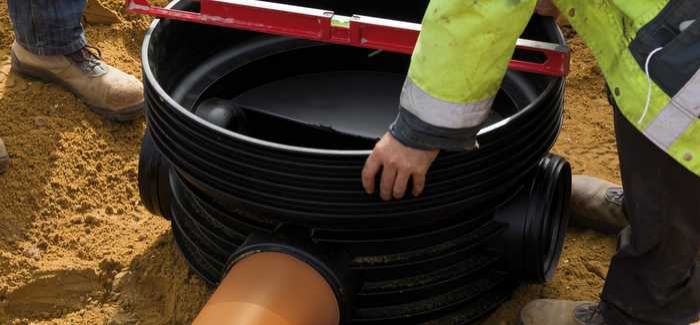 Plastic inspection chambers that comply with standards are now accepted for use in adoptable areas
New legislation demands a new approach from house builders, ground workers and contractors when it comes to the design, planning and installation of foul water and surface water sewer systems. However, the new legislation need not be seen as another headache for the industry if the right advice is followed from the start of the design and planning process.
Driven by the Flood & Water Management Act 2010, mandatory 'adoption' and new standards for all (new and existing) foul water sewers is coming. Currently, not all sewers are adopted.
When the new legislation, which some industry figures believe will be implemented from about April 2014, is finalised by Defra this will all change. Every sewer and lateral drain that serves two or more properties and connects to the public sewerage network must be adopted and will therefore become the responsibility of the relevant water and sewerage company.
The content of the new building standards is yet to be finalised, with current recommendations published in August 2013 by Water UK, which represents all major UK water and wastewater service suppliers, and in the design guidance document, Sewers for Adoption 7 (SfA 7), which was published in August 2012.
SfA 7 will present many challenges to planners, developer, construction companies and all those involved in the process. All new projects will require a Section 104 agreement to be in place with the water company and this will form part of the planning application, which includes a detailed design of the foul and surface water systems.
This will add time and costs to the planning process. No planning permission will be granted unless this legal document is in place. To achieve a Section 104 agreement a new approach will be required to the design and construction of sewers and lateral drains according to new building standards.
Under SfA 7, new rules and specification guidance is given on accessibility. The emphasis here is on ease of access for the water companies with regard to inspection and maintenance.
Wherever possible sewers and lateral drains should be laid in highways or public open spaces and manholes are required in a limited number of situations. The standard also requires a number of non-man entry access points.
A key requirement of the new standard is that plastic inspection chambers are now accepted for use in adoptable areas, provided they comply with BS EN13598-1 and 2, or have the equivalent independent approval. Part 1 covers chambers for installations down to a maximum invert depth of 1.2m and Part 2 to a maximum invert depth of 3m.
Traditionally the use of concrete chambers would have required a hole of much greater diameter than that possible using a modern plastic chamber. The use of plastic chambers can lead to savings in installation time of up to 50%.
In the related area of sustainable drainage systems (SuDS), more new thinking is required. The introduction of local SUDs Approval Bodies (SABS), responsible for approval of the design of the stormwater systems, will also present new challenges. Stormwater management for any new project must include some element of SuDS.
This could range from something as simple as rainwater butts to a sophisticated attenuation system. Historical flooding and capacity of existing systems will determine the extent of the SuDS required.
The concern is that the necessity for SAB approval could result in potential delays as they consult with water companies and highways departments.
Developers and contractors take note; no work can begin on site until SAB approval has been granted for the SUDS design. That's why getting it right from the outset is now more crucial than ever.
Obtaining impartial expertise and advice on the best system solution to suit an individual project and ensuring
SfA 7 compliance now requires a new approach, where products are not simply supplied within the confines of a single manufacturer's range but consideration is given to the design of the project as a whole. Technical design expertise such as that provided by water management specialists like JDP is one of the ways forward in finding a way through the minefield, whilst achieving the balance between mandatory compliance and avoiding time delays or associated increased project costs.