Action packed show has the latest innovations
Visitors to No-Dig Live 2012 exhibition, which takes place next month in Coventry, can expect to see a host of cutting-edge equipment to assist in the installation and refurbishment of underground utilities - and machinery demos too.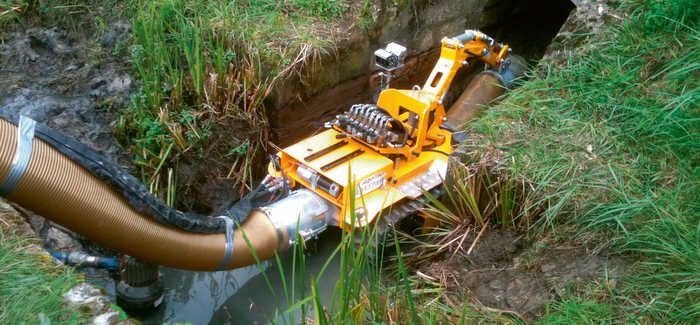 U-Mole's Mooner unit working some distance from the main Suction Excavation vehicle
No-Dig Live 2012 takes place next month and will showcase the very latest equipment and services used for installing and refurbishing underground utilities with minimum disruption of the surface. The biennial exhibition takes place on October 2-4 at Stoneleigh Park, near Coventry.
In addition to the indoor exhibition, visitors to No-Dig Live will be able to see a range of machinery and equipment in action.
Ant Hire plans to demonstrate its range of IMS cutters. On display will be the Micro Comfort for 80-225mm diameter pipes. The cutter can pass through 90° bends and climb vertical pipes. Its powerful air motor and joystick control ensures an "extremely high" but accurate cutting force.
The Micro Drive, for 150-400mm diameter pipes, will also be on show. The Micro-Drive is specifically for small and main line sewers, and features 100m of supply hose and removable 3.5" colour LCD monitor with air and water cleaning.
The new Jet-Trac 30/20 All Terrain Rock Drilling machine will be exhibited by Ditch Witch UK. The machine has a dual-drive drill pipe system allowing maximum rotational torque and rpm to the cutting bit. Ditch Witch will also be showcasing the the JT9/22 directional drill, down hole tooling and sub-site utility locators.
TT-UK will be demonstrating its Grundopit-K, a new technique utilising HDD, keyhole coring and RSP suction excavators, and which enables accurate drill and install services from a 610mm diameter cored keyhole.
Grundopit-K allows the HDD method to be adopted into an environment that traditionally uses trenches or small excavations for impact moling.
The company will also be showcasing its Grundomat N soil displacement hammer generation, which improves the propulsion and directional stability for even greater precise installation. The equipment's crowned head expands the bore hole to the full bore diameter.
Ampcontrol is making its No-Dig Live debut, and will be revealing its customised approach to engineering. The company provides designed and manufactured packages of electrical and electronic products engineered to international standards, incorporating individual components to provide total electrical solutions.
Visitors to Steve Vick's stand will be able see its 500m coil trailers. In fact, Wales and West Utilities has bought 18 of these high capacity pipe coil trailers, which can transport and dispense 500m coils of PE pipe with diameters from 63mm up to 90mm.
Elsewhere, Jetchem will be launching Confined Space, Emergency First Aid At Work and Chapter 8 training courses, which will run alongside its existing Water Jetting Association courses and modules. Jetchem's newly developed mobile vehicle is designed specifically for confined space training, and enables the company to train at the customer's site or at its own training centres.
Tunnel Engineering Services (UK) will be on hand to show visitors its range of tunneling equipment. The company offers equipment for hire including auger and guided boring machines; as well as pipe and shaft jacking with back-up equipment.
Plant & Site Services will be exhibiting its Polypush, which takes the strain out of pipe insertion. The unit requires no hydraulic assistance and can push pipes up to 200m without stretching or kinking the pipe. The compact unit – it weights 23kgs – is supplied with a full set of liners from 63mm up to 125mm.
U-Mole will be demonstrating wide range of equipment at No-Dig Live. Products being showcased will include the latest developments in MTS hydraulic power boom technology and ancillary tooling that helps further reduce the potential for third-party buried plant damage when excavating with suction equipment.
3M will highlight the Scotchkote Pipe Renewal Liner 2400, a liquid coating solution for BS EN ISO 11295:2010 Class D (water quality) that provides structural enhancement in excess of Class B requirements.
The product has a 1:1 volume mix ratio, and is formulated using advanced aliphatic polyurea chemistry, helping to both minimise water absorption and guarantee rapid curing and restoration to service. It is suitable for ductile iron, cast iron, steel and CML pipes in 4" to 24" diameters.
Force One, which has one of the largest fleets of suction excavators in Europe, will be exhibiting its latest high power triple fan suction excavator along with its new remote nozzle droid that allows for safe excavation.
H&V Fusion and Drilling, which has the UK distributorship for RITMO butt fusion equipment, is displaying the Delta 630 All Terrain butt fusion machine as well as smaller CNC-type units. The company is a specialised installed of PE pipe networks for gas, water and waste networks for diameters ranging from 25mm up to 1,200mm.
Visitors to Rotrex Softrak's stand will have the opportunity to see the multi-purpose, all terrain, load / personnel carrier that is able to cross very soft ground because of its extremely low ground pressure Bridgestone rubber tracks. The track is designed with flexible edges so that it can deflect over obstacles and not cut into soft ground.
C Scope will be displaying its range of pipe and cable locators. The company says it has reduced the need for regular calibration checks through the use of superior software, digital hardware and better quality control.
Sekisui will exhibit examples of its underground infrastructure rehabilitation solutions including the CIPP liner Nordipipe and Tubetex, which are available in individual lengths and diameters for water, gas and industrial pipes. The drinking water approved liners are cured after inversion into a leak-proof pipe within a pipe.