A Time to Skill: how can water face its workforce challenges?
Faced with the double challenge of an ageing workforce and a potential barrier to bringing in EU talent due to Brexit, how can water industry employers attract the next generation to work in the sector?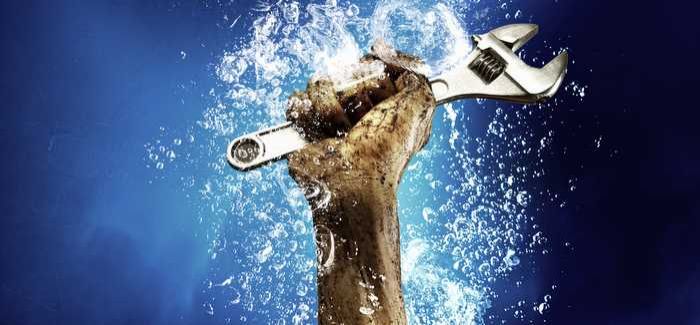 Why Choose Water?
Max Halford, Technical Leadership Graduate at Severn Trent: "I chose to work in the UK water sector as, having completed a chemical engineering degree, I wanted to use my degree for something positive and providing water is one of the most important things to humanity's survival. The process of treating water and sewage is incredibly complex but provides an exciting issue to work on that helps to impact people's lives positively. The reality of the work has been a real eye opener, as being a regulated company we operate completely differently to the private sector. The engineering work is also quite far from the theoretical world taught at degree level."
by James Brockett
September is the month that many graduate and apprentice recruits start work, and water sector employers up and down the country will be preparing to welcome new colleagues. But while there will be many success stories, a host of questions remain: are there enough of them, will they stay in the sector, and will they truly replace those who have retired or left?
Energy & Utilities Skills' Workforce Renewal and Skills Strategy, published earlier this year, predicts a shortfall of 221,000 workers in utilities over the next ten years, as the sector suffers from the ageing workforce, a tight labour market, a lack of technical skills and engagement amongst young people, and a post-Brexit slowdown in the flow of talent from the EU.
So what does this look like on the ground, and perhaps more importantly, what can be done about it?
One water sector employer which is seeking to invest in the future is Severn Trent, which is set to take on 44 graduates into its leadership, technical and specialist programmes this year, and 71 apprentices. It has expanded the number of graduates it is taking on in engineering and project management disciplines this year, but Matthew Higgs, New Talent Manager at the utility, is in no doubt about the challenges the industry faces.
"I think overall there's a chronic skills shortage - that's been written about extensively - but from our perspective there are a couple of specific pinch points that we've identified," says Higgs.
"The first is that technology is now prevalent at every single level of engineering, so there is a need to upskill even existing members of staff. Electrical engineering as it was fifteen years ago is not the same as it is now. So when you consider the really top end, new, almost frontier technologies that are coming in around smart networks and the internet of things, there is a really acute shortage of capability.
"Secondly, at a more day-to-day operational level, there is a shortage of level 3 technicians, particularly around skills such as civil engineering and building. It's an environment that not a huge number of people want to go into – perhaps because it's been relatively low margin - and there just isn't the pool of skilled people to draw from. There's almost a generational skills gap around construction and civil engineering. There are civil engineering specialties that we've really struggled to fill at all levels."
Engineering graduates with a good degree in electrical and civil engineering can find themselves with two, three or four job offers, points out Higgs – even at a time when the low oil price means there is relatively subdued competition from the oil and gas sector. To attract the best talent in this candidate's market, he says that the sector needs to push its environmental mission and sustainability credentials, as well as the challenge and variety of the projects it undertakes.
However, while the challenges around traditional engineering have been present for many years, the technology dimension means that new skillsets and entirely job functions are required involving IT, machine learning, data analytics and data science. Here, people with the right skills are not only scarce, but also in demand from a wider range of potential employers, including the more lucrative financial sector.
"It's no longer as simple as saying 'we are losing 50,000 engineers, so we need to find another 50,000'," says Paul Horton, chief executive of the Future Water Association. "There's going to be a different range of skills required across the sector. It's hard to believe that it has only been ten years since the launch of the first iPhone. That tells you how fast digital technology has developed, and a full range of skills need to develop alongside that. The pace of change is going to be rapid."
A common complaint is that not enough young people are coming through the education system with an interest in pursuing STEM subjects (Science, Technology, Engineering and Maths), making it almost inevitable that there will be a shortage at graduate level. For this reason, the Future Water Association's latest initiative concentrates on hooking them young: its 'Skills for the Future' programme is an alliance of companies working together to get 11-14 year olds interested in the water sector via talks in schools, visits and its 'Young Water Dragons' innovation competition.
Young people of that age often don't have any visibility of utilities, adds Horton: they don't know anybody who works in the sector and don't see the results of its work, other than the water coming through their taps which is a constant. If young people are given a glimpse of some of the hi-tech work going on the sector – which includes elements such as drones and artificial intelligence which could capture their imagination – then in just five years' time these youngsters could be putting their hands up to work in water.
"I've spoken to a number of schools career advisers who have said 'glad you got in touch, because we don't know anything about the sector,'" says Horton. "We don't talk to our kids about the sector. It seems crazy when water is so valuable, but if we don't do anything now, then in seven years' time, we'll have a lot less people. Perhaps in the future we'll become reliant on AI systems, but we are not at that point yet."
International talent has been a vital ingredient for STEM employers in recent years, filling many gaps that home-grown capabilities could not. While it is far from clear what post-Brexit deal will emerge and any immigration controls would not be intended to deter in-demand skilled workers, the UK's departure from the EU may result in some of this group leaving the country or being dissuaded from coming here in the first place.
The Civil Engineering Contractors Association (CECA) believes that building and civil engineering in the water supply chain could be particularly hard hit by this effect, which is why it has called on the government to guarantee the status of EU nationals working in the industry. Its figures show that 8 per cent of the construction workforce is made up of EU nationals.
"The construction sector requires at least 35,740 new workers per year. Currently the industry is reliant on migrant labour alongside UK workers to meet demand, particularly in London," Marie-Claude Hemming, director of external affairs at CECA, said in a recent report on the issue. "The lead time for skills demand in the infrastructure sector is far shorter than the lead time for skills supply. As such, it is important that the existing workforce can flex, and where required upskill rapidly, to meet demand. This requires a recognition of the key core skills, with common understanding of training against industry agreed standards."
However, British Water has surveyed its member companies twice on the subject of Brexit since the Leave vote in June last year, and the findings suggest that the picture of a worried supply chain may be overstated. In the first survey, conducted last August, 42% of respondents said they were optimistic about the implications of Brexit on the fortunes of their own company, compared to only 20% who said they were pessimistic. By the second survey in February, some of this positive feeling had dissipated, but nevertheless, 35% said they were optimistic against 12% pessimistic, with the remainder saying they were uncertain.
On the wider skills challenge, there are also grounds for optimism, in that the industry shows signs of taking action. Ofwat has indicated that skills will feature "heavily" in the PR19 draft framework, particularly in relation to operational resilience. The new UK Apprenticeship Levy is now live, with new water apprenticeship 'Trailblazer' routes built in; the first water apprenticeships under the new structure are now underway. Energy & Utility Skills recently announced a partnership with the Institute of Water to help push through collaborative progress on skills strategy, with the theme 'acting together now.' 
A concerted effort is certainly needed if the sector is to rise to these challenges.
Comment: Nick Ellins, Chief Executive of Energy & Utility Skills
The recently published Energy & Utilities Skills Partnership Workforce Renewal and Skills Strategy highlighted the challenge that exists over the next decade for our sector - protecting the quantity, quality and responsiveness to change, of its most critical resilience resource – its people. With Brexit on the horizon being one of many uncertainties causing hesitation in planning for even the largest organisations, one of the most practical indicators of any need to act is the available statistical evidence.
Recent data published by Office for National Statistics indicates that the UK's labour market is arguably tighter than at any point since records began. Last March, the employment rate, or proportion of employed people aged 16 to 64, reached its highest level since comparable records began in 1971 – 74.8%. At the same time, the unemployment rate has fallen to its lowest level since July 1975 – 4.6%. That combined effect applies the first constraint.
With the employment rate so high, companies have no choice other than to compete aggressively for the talent that is working for their UK and overseas competitors. They do so, just as every other major part of the UK economy is very publicly declaring a shortage of talent and a rapidly rising age demographic.
The Chartered Institute of Professional Development reveals that the majority of its HR professionals expect increases in competition for well qualified talent, difficulty recruiting senior/strategic or skilled/technical staff and report that the skills needed by their business are changing, with leadership, commercial awareness and digital skills the most valued. For those who believe that the market will provide, they may be right, but at a cost.
Turning to the unemployed talent, less than one per cent (3,000) of the 514,000 Jobseekers' Allowance claimants in April 2017 were seeking employment in relevant occupations, which include the 13 job titles on the UK's Shortage Occupation List.
Even at this level of analysis, and without seeking doom and gloom predictions, patterns are revealed that will end up in the board room, as the previous underlying business assumptions for securing precious human capital are forced to change.
The Workforce Renewal & Skills Strategy predicts a gap of 221,000 workers by 2027. The lack of suitably skilled labour is reflected in the prevalence of sector vacancies that are proving hard-to-fill by employers. Receiving hundreds of responses per vacancy is no indication that the market will provide: the lack of applicants with the required skills, qualifications or experience (known as 'skills shortage vacancies') is already significant. Within the wider energy and utilities sector, 36% of all vacancies were skills shortage vacancies – the highest proportion of any sector. The national average is 23%.
Technological advances, processes, partnership working and a deeper understanding of how laws and regulations are formulated and enacted will require new skill sets not previously seen in the industry. Water, as with the wider energy and utilities sector, has pre-existing workforce challenges that are exacerbated by statistical fact, changing needs and Brexit uncertainty.
Ensuring resilience of the workforce is achievable through a concerted effort by policy makers, regulators, regulated business, delivery partners and the whole supply chain. We simply don't know the post-Brexit impact yet, but it is hard to dispute that the time to act together is now. The Skills Strategy sets out how the sector's leaders will act together to ensure sustainability and where policy makers and regulators need to play their part in ensuring resilience and a sector-wide approach. Focus and collaboration is required now from central and devolved Government, to protect one of the most essential sectors to the UK economy and society.