A solar booth revolution
Constructing and operating traditional water testing kiosks can present huge challenges to water companies. But NG Bailey may have come up with the solution.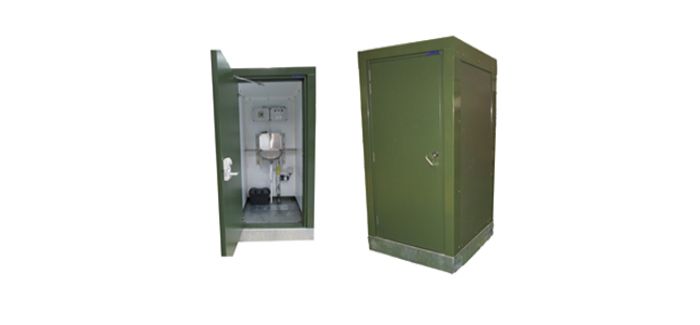 Water companies remain under constant pressure to deliver safe, clean drinking water that adheres to stringent regulations and quality standards.
To test the quality of water in reservoirs, water companies are required to provide water samples on a weekly basis, which are tested for a variety of pollutants. These water samples are currently obtained in existing multipurpose buildings or site built testing kiosks – usually small onsite structures that house the pipe work which provides a direct link to the reservoir's water supply.
The construction and operation of these sampling kiosks can present huge challenges. Traditionally, building a water sampling kiosk can be a lengthy process, taking anywhere from two weeks to two months to construct. Traditional testing kiosks require the preparation of a concrete base before the rest of the structure can be completed on top of it and each kiosk must be made fully secure to reduce the risk of break-ins and prevent the contamination of samples.
Kiosks also typically require a mains power cable for lights, pumps and heat.
NG Bailey's offsite specialists saw an opportunity to revolutionise traditional methods of building these testing kiosks and have developed an innovative solar-powered water sampling booth that is manufactured offsite. This means it can be delivered, installed and operational within a much shorter period than using traditional construction methods.
The pioneering new solution delivers both financial and energy saving benefits. Costs are halved in comparison to using conventional construction methods, and by a third compared to using hybrid solutions that combine prefabrication and traditional methods. Furthermore, this new booth design is more secure and reduces the risk of contamination in the water sampling process.
By applying innovative design and offsite manufacturing methods, NG Bailey can provide water companies with a solar sampling booth that is operational in just one day. The company has also developed a unique base that negates the need for a standard concrete foundation.
Instead the base can be installed directly into an excavation, then backfilled. Once the base is in place, the booth can be quickly bolted on top of it.
The water sampling booths are fitted with metal sampling taps that feature a hygienic design. NG Bailey has also incorporated a unique automated flushing system, which will provide the tester with a pre-sample flush, followed by an actual timed sample for testing with precision quality every time. In addition, each solar sampling booth is furnished with stainless steel work surfaces and a stainless steel sink, further enhancing the hygienic environment.
The sampling booths are LPCB Security 4 rated, fully insulated and solar powered. They do not require a mains cable for either power or heating supply. The system operates trace heating which maintains process temperature, protecting the pipes from freezing.
"Breaking away from conventional construction methods can offer real benefits that make a difference"
By applying offsite manufacturing techniques, the state-of-the-art sampling booth design has the cost-advantages of standardised production, but can also be configured to client specifications.
The solar sampling booths can be ordered with a range of options, including a pumped water supply, mains power, alarm sensors and duplex sampling. NG Bailey has also developed a spreader plate and flat pack model, so the sampling booths can be mounted on the roofs of fragile reservoirs by a small team of specialist installers.
The solar sampling booths are just one of several pioneering offsite manufacturing solutions that NG Bailey has created for the water industry.
Breaking away from conventional construction methods can offer real benefits that make a significant difference to water companies' operational costs and energy consumption, whilst also helping to support them in their constant drive to meet regulatory targets.