A mother and daughter team
In this Q&A, WWT meets Lesley Barratt of Clancy Docwra, who won the Ladies category of the Institute of Water's Drilling and Tapping competition this year along with her daughter Kayleigh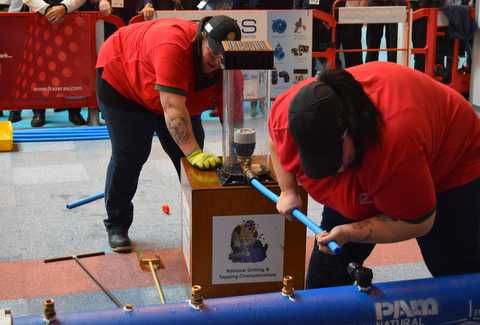 Lesley and Kayleigh Barratt in action at the Drilling and Tapping competition
How many times have you competed in the Drilling and Tapping competition?
It was our third time this year, and the first time we've won. Our winning time – 4 minutes 32 seconds – was the best we've done in competition, although we have done sub 4 minutes in the training shed. We have the same roles each time: I'm the driller and Kayleigh is the service layer. We've also competed once in America, which is a very different technique: you have to have three team members for that. As a result of our UK win we'll also be going to Holland next November, so that's another technique we've got to learn!
What do you do in your day job, and does it involve this kind of work?
I'm a Depot Administrator for Clancy Docwra in Lincoln. I deal with traffic management for the work that we've done, I then put it on the system for costings and do purchase orders, whatever's needed really. Kayleigh is a resource controller, which involves planning the different work teams that go out and liaising with highways, Anglian Water and with the operations side. We are both office-based, so Drilling and Tapping is not part of the day job.
What first encouraged you to get involved with Drilling and Tapping?
My husband, Jason Barratt, has won it six times in the UK now, and also won the world title in America. Jason got asked through work to do it, and had been doing it a couple of years and we went with him to support him and to watch, so we would always be in Birmingham when it was on. Then one year Malcolm Holmes [Anglian Water judge and co-organiser] got a call to say that some ladies teams had dropped out and asked whether we would compete. That call was on a Sunday and by Tuesday we were in the arena actually competing!
How much do you practice, and what's the key to success?
We get one day a month off from work to go and train in Anglian Water's training shed; we'll usually go on one evening as well, and sometimes on a weekend too if we have time. Jason is our trainer and he also trained the Clancy Docwra men's team. The machine we use in the training shed is older and more worn than the one in the competition, which is a newer machine, so it's never quite the same – nerves comes into it as well, so you have to keep composed! The key is working together and doing it as a team. We just say that whatever happens on the day happens, we will just do our best.

What do you enjoy about the competition?
To me, it's a bit of fun, it's going to meet people who have the same interests. As time has gone on there are more ladies entering: this year there were the most ladies teams that there have been. We've made really good friends through it. Although it is a competition on the day and we go in to win, we're happy for whoever wins, it's nice to see them and we get together and have a drink and a chat afterwards. We give each other tips as well – if we're struggling with something we'll say do it like this, and vice versa.
What would you say to somebody who was thinking of entering the Drilling and Tapping competition?
Just do it. It's brilliant, it's really good fun and I'd recommend it to anybody.
Are you confident of defending your title at Utility Week Live 2017?
Well, we're definitely going for it, so we'll do our best!
-The Institute of Water's Drilling and Tapping competition is held annually at the Utility Week Live conference and exhibition in Birmingham. The next competition will be on May 23-24 and is now open for entries. Enquiries to Lucy Archer at lucy@instituteofwater.org.uk or visit www.drillingandtapping.co.uk for details.