A large dose: Tackling eutrophication
Kevin Wheeler, managing director at chemical dosing specialists WES Ltd, discusses the growing issue with phosphorus and how approaches such as ferric chloride can help provide a solution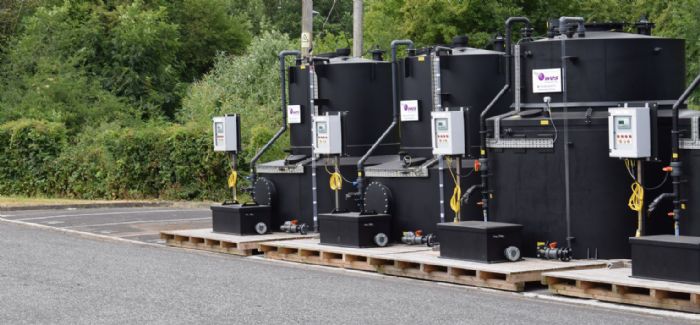 Phosphorus in wastewater is a key cause of eutrophication – the over-enrichment of lakes and other surface waters from mineral and organic nutrients.
It stimulates excessive growth of microscopic algae and plankton, creating a dense algal bloom, where the subsequent death and bacterial decomposition strips the water of its oxygen and creates an unhealthy environment and the potential for fish kill.
Eutrophication is a huge concern as many waterways and lakes in the UK are currently failing to meet the strict standards set for nutrient levels under the nation's Water Framework Directive.
The main sources of phosphorus in water include agricultural fertiliser run-off from fields, detergents from household drains, and waste from various industries discharged into our waterways.
Its level in the discharges from municipal and industrial wastewater treatment plants must be controlled to minimise eutrophication issues. These concerns range from increased purification costs to diminished recreational and wildlife conservation value of natural waters, loss of fish and other livestock, and even lethal effects from toxic algae in drinking water.
Climate change is also projected to cause an increase in the eutrophication risk across the UK in the future.
Innovative solutions are vital, and improvements in wastewater treatment as well as understanding nutrient discharges from wastewater treatment works both large and small would help to refine the potential for point source nutrient management helping to reduce phosphorus concentrations.
Legislative demands in the UK for reduced phosphorus levels in discharged wastewater are a key driver, along with pressure from environmentalists. In addition, there is a drive for any new water treatment approach to be cost-effective and practical, as well as the consideration of health and safety.
One effective approach in the removal of phosphorus is to dose water with ferric chloride. Water utilities can address this by seeking increased or upgraded ferric dosing at multiple locations; for example, WES Ltd responded to a framework call issued by Wessex Water to tackle this issue.
Chemical treatment for phosphorus removal involves the addition of metal salts to react with soluble phosphate to form solid precipitates that are removed by solids separation processes including clarification and filtration. The most common metal salts used are in the form of alum (aluminum sulphate), sodium aluminate, ferric chloride, ferric sulfate, ferrous sulfate and ferrous chloride.
Chemical treatment is the most common method used for phosphorus removal to meet effluent concentrations below 1.0 mg/L. Ferric chloride is arguably the most appropriate method for controlling the level and extent of eutrophication through prevention with wastewater treatment.
There are three methods to remove phosphorus: ferric chloride or ferrous chloride is used to precipitate out the phosphorus into a non-soluble form that algae cannot readily use, aerobic bacteria are cultured in the aeration tanks to aid in the removal of organics and phosphorus, and finally anaerobic bacteria remove phosphorus in their fermentation.
Another alternative to remove phosphorus is through the use of a membrane filtration system. These systems not only remove phosphorus suspended in the effluent but also phosphorus that dissolved in the effluent. These membranes can bring concentrations of phosphorus as low as 0.008 ppm.
Finally, using ultraviolet light to damage and kill the microbes is another alternative. UV light must physically reach the bacteria, therefore murky water would be a less efficient treatment. Another disadvantage to UV in wastewater is the fact that microbes in water can withstand more ultraviolet irradiation than in the air, which will require a greater exposure time to the UV light to kill the bacteria.
UV light has the advantage of preventing unwanted chemical reactions because it uses no chemicals, whereas chlorine has the possibility of forming chloramines and chlorophenols. Another disadvantage of chlorine is the fact that storage is dangerous along with the possibility of operator injuries. There is, however, a huge advantage to using chlorine over UV, which is the fact that chlorine can continue to disinfect even after it leaves the plant – that's one reason its use is continued in treatment systems.
For the water industry, using a practical, affordable and adaptable solution to a large-scale operation has meant companies have been able to meet the challenge of complying with legislation aimed at reducing phosphorus levels.
With large dosing systems of up to 10,000 litres, its success has the potential to be far-reaching and to have a positive environmental outcome, massively reducing phosphorus levels across the UK.
This article originally appeared in the September issue of WWT