Fats, oil and grease need clear thinking
Latest research from Cranfield has shone a light on the characteristics of of fats, oil and grease (FOG) droplets entering sewer systems, and the different methods for their mitigation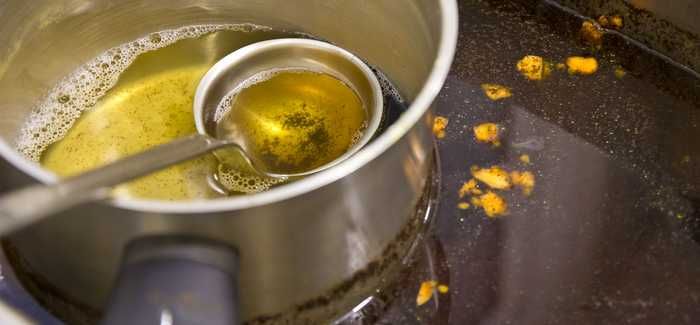 by Dr Rafaella Villa, Senior Lecturer in Bioprocess Technology, Cranfield University
The impact on the UK sewer system of fats oils and grease (FOG), derived from food preparation and cleaning activities of restaurants and kitchens, has grown over the last 20 years. According to British Water, water companies are responding to over 370,000 sewer blockages every year, 80% of which are caused by FOG. This is costing the country (government, businesses and customers) more than £88 million a year, and that excludes additional costs, such as when sewers collapse and the effect this has on people's lives and businesses.
When you bear in mind an intensification of extreme rainfall events as a result of climate change, this combination has led to an increase in severity of flooding, environmental pollution and property damage associated with FOG-related blockages and sewer failure. Although relatively simple in its nature, the problem is owned by a composite community of stakeholders with different drivers and despite the growing urgency, research on FOG remains relatively scarce.
The 3rd International FOG Conference was held last month at Cranfield University, co-organised with British Water. It offered an update on the most recent research on FOG, bringing together water companies and their suppliers, restaurants, property managers and owners, catering equipment providers, food service kitchen designers, local authorities, environmental consultants, health officers and anyone else with an interest in FOG. More importantly, it helped to shape opinions and create a framework for future investigations.
Cranfield University has been involved in research on various aspects of the FOG problem for the last 10 years: from a more fundamental characterisation of FOG-rich wastewater and associated flow regimes, to physical and biological technologies to mitigate the FOG problem in kitchens and sewers.
How to stem the tide?
The most obvious and effective way of mitigating FOG-related problems is to prevent their discharge in the first place. Although this is easier said than done for both businesses and individuals, by encouraging good practice at source, backed up by information campaigns and regulator intervention, followed by pre-sewer separation or biological treatment on-line, we would be able to prevent many problems occurring to begin with.
Yet it is inevitable that FOG will reach the sewers, however well-intentioned the source, and so what options exist then? Fundamental to the success of both systems is an understanding of the characteristics of the material discarded. The composition of wastewater from food service establishments (FSEs) is very variable and linked to the size, type of cuisine and cleaning processes employed at each site. Key physical and chemical parameters of kitchen wastewater, such as particle size and zeta potential, are central to the most common FOG mitigation processes (gravity separation, air flotation and electroflotation) but have been very rarely investigated. Until now.
On-campus sampling and testing
We did our own sampling campaign of on-site restaurants, which showed that FOG droplets have the right characteristics to be successfully separated using passive separators, and that wastewater flow in commercial kitchens is sporadic, depending on washing times and business operational factors. It is, therefore, essential to monitor these parameters when trying to improve or assess the design of kitchen wastewater treatment systems. Initial evaluation of the data suggests that improvements can be achieved by simple design change, allowing longer retention times or preventing mechanical emulsion formation.
Furthermore, despite the widespread use of biological FOG remediation, there is currently no method for assessing quantitatively their efficacy. Cranfield's work has also focused on the development of a robust test protocol for microbial additives commonly used in FSEs. The protocol includes a novel method for FOG quantification in detergent-rich wastewaters. FOG quantification is currently done using hexane-based extraction methods (liquid-liquid extraction or solid phase extraction), which have errors ranging between 30 and 40%. This range of error is unacceptable when trying to enforce FOG emission limits. The new method is simple and cheap and has both excellent recovery and precision down to below guideline concentration (typically 100 mg/l FOG) making it suitable for discharge monitoring in FSEs.
A FOG-free future?
FOG is here and likely to stay. But what our work with industry and government has shown is that there is a real desire from all the stakeholders to address the problem, as it goes well beyond the financial bottom line. Businesses have moral and reputational considerations to bear in mind; government should be supporting business, water providers and the public; and all should be conscious of their individual environmental legacies. And although prevention is always better than remedy, if business, government, academia and the wider society can continue to work together, I am confident that we will be able to cut the cost of FOG to the country and the environment.