360-degree training gives sewer workers full picture
A unique training facility at the Slough office of Thames Water contractor Lanes Group allows for an immersive employee training experience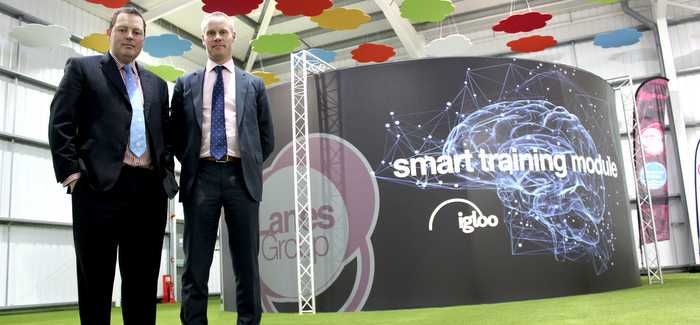 Andy Brierley (Lanes) and Mark Grimshaw (Thames) with the Igloo
How do you prepare employees for a job that could involve plunging into confined spaces in dark sewers, and coping with the sometimes grim conditions encountered, while making practical decisions on the spot that will help customers experiencing blocked drains? Technology has provided part of the answer at the Slough offices of Lanes Group, the drainage contractor for Thames Water, where a 360-degree projection theatre called the Igloo is being used as a training tool.
Up to 15 people can enter the Igloo at once, where they are entirely surrounded by curved screens, a set-up which enables them through the magic of video to be virtually transported to scenes including a suburban street, the middle of the River Thames and a subterranean sewer. It's the next best thing to reality, and provides the perfect setting for a trainer to talk a group of people through situations they might encounter in the field.
I visit the facility on a wet Monday afternoon in September, where I am shown round by Mark Grimshaw, Thames Water's Head of Wastewater Networks for North London, and Michael Hall, Lanes Group's Head of Operations. The Igloo stands in glorious isolation in a cavernous astroturf-clad room in the sparkling new offices. Pass through a couple of sets of doors, and there are two floors worth of Lanes employees busily taking calls from customers and logging engineers' visits on their computer screens, but in here, all is peace and quiet. Rows of chairs in one corner indicate a classroom area that is used for conventional training, but the circular Igloo is the clear centrepiece of the room, sticking out as if it has just materialised, Tardis-like, in an environment that wasn't expecting it.
Taken inside, my hosts use a tablet to flick the circular screens into life, and we are soon standing in a busy street, next to a van parked alongside a row of houses. Grimshaw explains that the Igloo is particularly useful for health and safety briefings, where participants are encouraged to spot hazards around them.
Looking up and down the virtual street and finding how the eye is constantly drawn to the realism of the objects, people and buildings around me, it's easy to see how the millennial generation would respond better to this type of experience than a traditional chalk-and-talk or powerpoint approach. By the time we move into a walk down a large-diameter sewer, and the video screens switch to show the dripping surface of an underground pipe, I'm truly immersed.
Beyond the novelty of being surrounded by a picture or video, the system also allows for interactivity, with some courses having a decision-tree structure. At any point, participants might be asked what piece of equipment or technique they want to use, or what they want to say to the customer or head office. Once the group decides between the options, the next video sequence will show the results of that action.
With the help of a specialist agency to do the filming, and some of its own employees making appearances as actors, Lanes is creating a series of 13 realistic training scenarios with this decision structure. I am shown one which tracks the experience of a customer as she calls the call centre to report a blocked drain, has a van dispatched and then sees staff having more than one attempt at resolving the problem. The decisions taken culminate in the customer awarding a customer service score of between 1 and 5 via text message for her experience – something that happens in reality, with this score being considered the most important KPI for the company's workforce.
Lanes is using the facility not only in its induction for new employees, but to give refresher training to its existing staff once every three months, and to give office-based staff an insight into what colleagues do in the field. Teams with staff from different job functions typically take the training together, so each has an opportunity to contribute with decisions that fit their specialism and the session is not dominated any one individual.
There's also a competitive aspect, with teams from the five geographical Thames regions (NW, NE, SE and SW London plus the Thames Valley) all competing against each other to register the best scores. This fits in with a general trend for 'gamification' in the Lanes HQ: the offices are replete with dashboard screens indicating the statistics and activity in each of the five regions, and there is a natural tendency to compare them against one another and seek to outperform.
Hall tells me that the retention rate of employees who have gone through Lanes's revamped induction process (which includes the Igloo) has increased markedly, with 18 out of 20 now staying for at least six months. This compares to previous years when as many as 8 out of 20 dropped out before the six-month mark. Benefits can also be shown on health and safety performance, and on customer SIM scores.
With Lanes employing 1300 field operatives and 350 support staff on the Thames Water contract alone, marginal gains made through employee training can really pay off – an example of innovation in action.