WWT Explains...water reuse
In our latest WWT Explains guide, produced in association with Evides, we look at water reuse. Water reuse hasn't yet taken off in a big way in the UK. That's likely to change in the coming years. Urban populations are continuing to expand putting greater strain on natural watercourses. At the same time, warmer conditions are resulting in less available natural water particularly in the south of the UK. This guide examines the advantages of recycling wastewater, the technology involved and the potential new income streams available from the product water and recovered resources.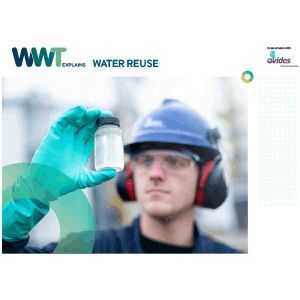 Water companies' traditional business models can be supported by a wastewater reuse project in a number of ways. Companies can reduce the amount of freshwater they extract from the environment if they recycle domestic wastewater for onward sale to industry. They can also free up capacity at the existing wastewater treatment works by diverting a proportion of wastewater to a recycling plant. This means that drinking water and wastewater treatment capacity is freed up for domestic customers.
The guide covers the following topic areas:
What is wastewater reuse?
What are the advantages of recycling wastewater?
What are some of the applications of recycled water?
What are the main industrial markets for reuse product water?
What's involved in a typical wastewater reuse project?
What are the typical treatment technologies used in wastewater recycling?
What are the potential risks of recycling wastewater?
How well-established is the technology used in wastewater recycling?
What regulations govern water reuse in the UK?
What is the potential to recover resources from wastewater?
To download this WWT Explains report, please enter your details in the box on the right.
Download
Login
Or
If you prefer not to share your details for marketing purposes and want to download this original content, please purchase the report here