WWT Explains Supply Interruptions
In our latest WWT Explains guide, produced in association with Water Direct, we look at supply interruptions. Water networks are fallible. When something goes wrong, the impact on customers can range from mild inconvenience to life and death. The water industry has developed over decades into a sector providing a more consistently reliable supply than in generations past. This guide looks at how the sector's renewed focus on customers has led to improvements in this area and in what ways water companies can work with alternative supply specialists to get water back on if a customer's supply is interrupted.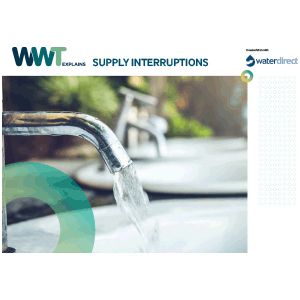 The industry continues to face significant challenges with supply interruption. Whether it's the rising number of prolonged dry periods or increasing frequency of icy and stormy weather putting pressure on networks. Or unexpected bursts and even planned outages linked to upgrading older assets.
The guide covers the following topic areas:
What are the main reasons why a water company might seek an alternative supply?
What are the main alternative supply solutions that can be put in place?
How does a network injection typically work?
What happens in the case of a reservoir transfer?
How can bottled water support stable supply?
What role can static tanks play in ensuring supply?
How might a typical contract for alternative water services be structured?
What can be done through use of alternative supplies to help mitigate issues?
How can contingency planning services support water suppliers?
To download this WWT Explains report, please enter your details in the box on the right.
Download
Login
Or
If you prefer not to share your details for marketing purposes and want to download this original content, please purchase the report here