WWT Explains Contemporary Asset Management
In our latest WWT Explains guide, produced in association with Innovyze, we look at contemporary asset management.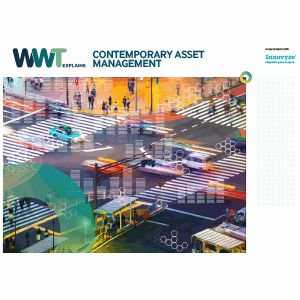 Ofwat began tasking water companies to digitally capture information about their network assets from its very first Asset Management Plan (AMP) cycle in 1990-95. Water utilities went ahead and sketched out varying degrees of network visibility during those early years. Since then, the industry has continued working to create rich digital maps that are now estimated to describe from 80 to 100 per cent of water network assets in the UK.
This guide looks at how digital mapping systems are being kept up to date and how the water sector has seen technological advances unlock potential for much greater efficiency in asset management. Emerging business challenges are constantly dialling up the pressure on water companies to deliver greater value from the assets they have.
With testing times ahead — in the shape of ever-tougher targets from the regulator, rising customer expectations and an anticipated higher frequency of extreme weather events — a well-tailored asset management plan will help utilities to perform against an elevated bar. The guide covers the following topic areas:
What is Ofwat's perspective on asset management for AMP7 and beyond?
What's the role of a manhole survey in understanding a drainage network?
What value do CCTV surveys add to understanding assets?
How is CCTV survey data used to produce a condition rating for a pipe?
How do you determine criticality of a pipe?
How are condition ratings and criticality used together to support effective asset management?
To download this WWT Explains report, please enter your details in the box on the right.
Download
Login
Or
If you prefer not to share your details for marketing purposes and want to download this original content, please purchase the report here