Innovation in the water industry
As water companies come under pressure to up their game on innovation, Water & Wastewater Treatment (WWT) in association with UKWIR (UK Water Industry Research) carried out an exclusive survey of directors, heads of departments and managers in water and water & sewerage companies to find out more about activity levels, barriers and preferred incentives to encourage new ideas and processes.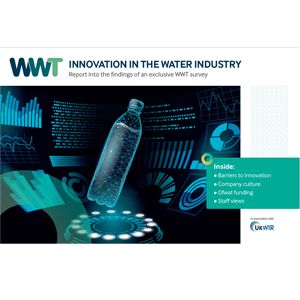 Key findings of the survey include:
100 per cent of respondents rated innovation as important or extremely important.
Almost eight in 10 respondents support Ofwat's proposed innovation fund, with 76 per cent favouring a combination of a collectively funded competition and a reward for the successful roll-out of innovative solutions.
Seven out of 10 respondents (70 per cent) say that their organisation pursues incremental innovation, as opposed to 'disruptive' innovation.
Perceived barriers to innovation vary considerably by business type and seniority – the highest rated barrier was the lack of infrastructure to fast-track ideas from inception to implementation.
Water & sewerage companies are more likely to believe in a range of innovation enablers. Open data ranks highest amongst water and water & sewerage companies.
To download a report that highlights the full findings, please enter your details in the download box on the right. You must be a registered user and logged in to access this download.
If you are not a registered user please click here.
Download
Login
You must be logged in to access this download