WWT Drinking Water Quality Conference and Exhibition
The WWT Drinking Water Quality Conference 2017 is all about pushing boundaries: going beyond compliance to take water quality to a new level, from source to tap.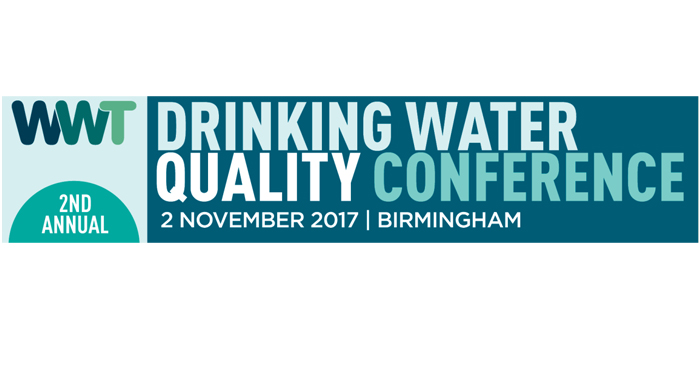 Showcasing specialist scientific research, unique treatment techniques, management solutions and customer-side risk mitigation case studies, this is the UK water industry s only full-scale conference addressing these challenges and more for UK drinking water quality.

This CPD-certified event will give you the opportunity to:
Receive a summary from the Drinking Water Inspectorate the general annual report for water company performance 
Improve the technical elements of drinking water treatment 
Develop a nation-wide strategy for pesticide use and farmer engagement 
Make your incident management better & mitigate customer-side risk

The day will be chaired by Dr Richard Allan, Business sector lead: environment, James Hutton Institute
Expert speakers sharing their insight include:
Marcus Rink, Chief inspector, Drinking Water Inspectorate 
Heidi Mottram OBE, Chief executive officer, Northumbrian Water Group 
Sue Petch, Drinking water quality regulator, DW Quality Regulator for Scotland 
Colin Clements, Senior drinking water inspector, Department of Agriculture, Environment and Rural Affairs (NI) 
Darragh Page, Senior Inspector - drinking water team, Environmental Protection Agency 
Dr Robin Price, Head of water quality, Anglian Water 
Dr Clair Dunn, Water quality risk & optimisation manager, Anglian Water 
Toni Holtby, Water quality policy & strategy manager, Anglian Water 
Elise Cartmell, Chief scientist, Scottish Water 
Ashlea Lane, Director of water supply, Wessex Water 
Chris Rockey, Head of water quality, South West Water 
Clare Beasant, Manager of water regulations & sampling, Yorkshire Water 
Dr Phillippa Pearson, Catchment manager, Dwr Cymru Welsh Water 

View the full agenda, download the brochure, view the complete list of speakers and register at: events.wwtonline.co.uk/drinking

Alternatively, contact Carla Staden on +44 (0)1342 332016 or email Carla.Staden@fav-house.com

Follow us on Twitter @WWTlive for event updates and use #DrinkingWaterQuality to tweet about the event.
Download to your calendar

>>
Visit event website

>>