Utility Week Procurement and Supply Chain Engagement Conference 2018
Procurement professionals in utilities face pressure from all sides: to cut costs without compromising on outcomes; to make optimum use of massive advances in technology; and to develop more efficient and effective ways of partnering with their supply chains.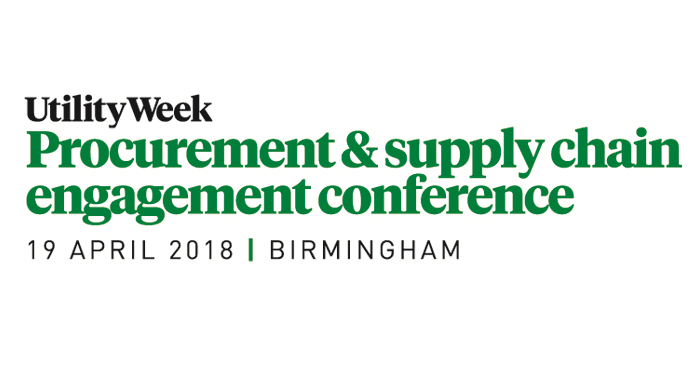 As new challenges emerge, they must adopt new business practices and demonstrate agility to unlock value and enable innovation in the supply chain. Investment in the right people and processes is critical to deliver long-term, innovative solutions that lower costs without compromising on quality.
The 2018 Utility Week Procurement & Supply Chain Engagement Conference will prepare procurement professionals for the regulators' direction of travel and showcase best practice on how to balance cost and risk to meet long-term challenges.
Topics for discussion include: the value of communication to drive creativity; impacts of price volatility; how to address the skills gap; and how to extract value from existing arrangements by moving towards more collaborative supplier relationships.
Attend this CPD-certified conference to:
Align your procurement strategy with the regulatory agenda 
Balance cost and customer considerations to deliver value for money 
Unlock innovation within your supply chain and build enhanced relationships with suppliers 
Embrace new technologies and future trends 
Address the skills gap and explore new sources of talent 
The day will be chaired by Ellen Bennett, Editor of Utility Week and expert speakers include:
Nirmal Kotecha, Director of capital programme and procurement, UK Power Networks 
Jonathan Callighan, Director of construction and procurement, Cadent Gas 
Adam Cooper, Director, Ofwat  
James Norman, Head of commercial policy, Ofgem 
Tim Coles, Head of commercial, Thames Water  
Valerie Jamieson, Head of procurement, SGN 
Chris Wand, Head of supply chain and logistics, Severn Trent Water 
Simon Harnett, Head of UK procurement, National Grid 
Karen Thompson, Head of direct procurement, Anglian Water  
Nick Ellins, CEO, Energy & Utility Skills 
Donna Kingett, AMP7 contract strategy manager, Yorkshire Water 
Duncan Brock, Group director, CIPS 
You can see the full agenda, download the brochure, view the complete list of speakers and register at: http://events.utilityweek.co.uk/procurement/ 

For exhibition and sponsorship opportunities please contact Sophie Abbott on 01342 332062 or at sophieabbott@fav-house.com
Download to your calendar

>>
Visit event website

>>