Grit removal: the importance of protecting downstream equipment
The water industry needs to wake up to the costly damage that wastewater grit can cause and take action to ensure that key equipment is protected, writes Neil Sandell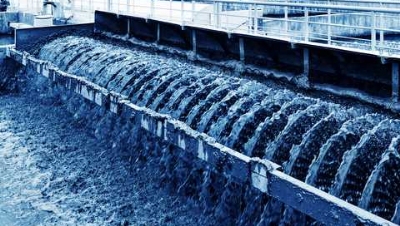 Removing grit effectively during preliminary treatment is an essential part of protecting vital downstream assets in all sewage treatment works. While inlet screens are undoubtedly the front line of defence, if grit is not trapped it will settle out where flows are slowest; in the sedimentation and digestion tanks, and around hopper bottoms and sludge outlets.
Undesired settling is a major issue, and the importance of efficient grit removal at smaller works is often under-appreciated. At small sites, if grit bypasses the grit trap it will normally be collected with the sludge in the primary sedimentation tanks. This is then taken by tanker to larger works for processing, where the grit will cause further problems to expensive assets. To give an idea of the size of the issue, if grit collects in digesters these may cost up to £500,000 to dig out and clean.
The highly abrasive nature of grit is another significant problem, as it causes early wear to vulnerable and costly mechanical equipment, pumps in particular, and therefore has a major impact on maintenance budgets. Even fine particles can have a marked effect on the entire works' processes.
Grit issues tend to be under-reported and may remain unnoticed until significant downstream settlement and damage has already occurred. Most likely, this is because the grit extraction process is normally automatically operated by timer control three or four times per day. On unmanned sites, it is not unusual for the operator, who will be responsible for several sites, not to see this particular part of the plant in operation during their periodic visit.
This is a key problem for utilities, because grit plant is vulnerable to operational oversights. For example, grit extraction cycles such as air washing and air lift pump assemblies are sometimes set incorrectly and maintenance is not done because, superficially, the plant appears to be working normally. However, inefficient plant requires more power, and is therefore less energy efficient, thus increasing the utility's carbon footprint. Given the need to drive down operational costs and reduce this footprint, this is an unwanted and unnecessary burden.
There is, therefore, a real need for proactive, preventive maintenance to ensure grit traps are working correctly so that vital downstream equipment does not fail unexpectedly, leading to long periods of downtime for repairs and potentially problems with other processes. With grit traps working optimally, utilities can also ensure that they save money, reduce their environmental impact, and drive down their TOTEX.
There is a growing understanding of the significant impact inadequate grit removal may have on a wide range of treatment plant processes and outcomes. To help the industry address the issue we are offering a free 'health check' for our grit plant at wastewater treatment works to identify any maintenance requirements and where required, make recommendations for refurbishment. With grit plant working correctly, utilities can be confident that they are helping to protect vital plant assets, which is the first, critical step in achieving the desired treatment outcomes.
www.jacopa.com