Don't keep droning on - the industry must continue to innovate
The expansion in the use of unmanned aerial vehicles (UAVs) - commonly known as drones - has been remarkable over the last five years, but they still have an increasingly essential role to place in many business sectors, and their use in the environmental consultancy and water industry has moved on apace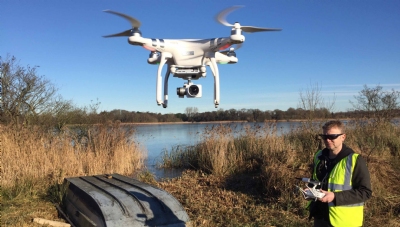 UAVs are now becoming part of the standard tool box for large-scale environmental surveys, covering large areas quickly and economically, with a permanent visual record available afterwards. Increasingly, more specialist uses are being developed on the back of standard flyovers of large tracts of land and water. At the moment, the technology is being used in a fairly narrow way – to create a video record and an assessment back in the office. But surely we could be more adventurous?
So where is the water industry heading with this technology? Remote sensing was a technology developed in the 1960s and '70s and today still plays an essential role in many scenarios to gain information for both large-scale and increasingly smaller-scale projects. These developments have, in part, been driven by the military and by governments around the world.
Scale is the key issue. UAVs are, at the local level, what satellite imaging or aircraft-based remote sensing is at the macro scale. UAVs are portable via rucksack while larger forms of remote sensing could require a satellite, ship or car. So here is the first challenge. Can we take the larger-scale remote sensing technology and load our UAVs up with that technology? Can we use this to detect heat sources at a local level, for example water main leaks, or to calculate evaporation rates from lakes to help balance water resources, to identify tree species, or to measure water depths and topography data?
The potential uses of technology for the water industry are boundless. In the US, UAVs are being used for water sampling of lakes. Uses such as this can create enormous cost savings for a project in terms of reduced health and safety requirements, pinpoint accuracy of GPS location of samples and speed of completion. Why not take this to the next stage and adapt UAVs to work underwater so that they can collect multiple water samples in tubes to depth profile and build up a 3D water quality picture?
And potential uses don't end there. If we look at the core product of environmental consultancy – the written report – we need to use technological innovation to move this on.  With UAVs and visual impact assessment and point cloud data, an electronic environmental impact assessment must be only a short step away. Just think how much easier it would be if a stakeholder could log in, search and find relevant aspects that they were interested in, review data online and then use virtual reality head gear to walk around a new development.   
I accept that some statutory elements need to be in writing, but engagement and trust are key elements of the stakeholder dialogue process. The HS2 environmental statement has over 30,000 pages, Hinkley Point C over 32,000 and Thames Tideway tunnel a mere 25,600. These examples show that there is real scope to improve the presentation of Environmental Impact Assessments and make them more accessible and engaging. Stakeholders of the future are today's millennials, who check their smartphones hundreds of times a day, and engage and embrace technological change without fear, and browse online to stay informed.
This is an exciting time due to the advancements of technology and its practical uses – especially for the water and environment industries. We just need to make sure that we think big and continue to innovate to ensure that the technology available to us reaches its full potential.
For more information about the work of Thomson Ecology, visit www.thomsonecology.com