A pink incident shines a light on the chemistry of water treatment
An incident in which the tap water of a Canadian town turned pink has highlighted the colourful role permanganate can play in water treatment, writes Dr Jannis Wenk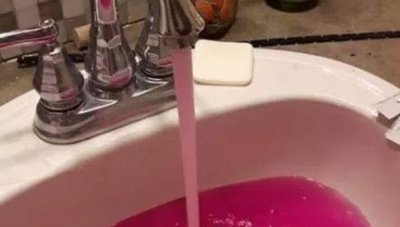 For most of us it is a matter of course that the taps in our homes deliver potable water for domestic purposes such as drinking, cooking, showering and cleaning. To enjoy the benefits of clear, cold and safe water, a hidden but valuable infrastructure in our cities and villages exists that is operated and maintained by considerate water engineers and scientists. Among these professions, water chemists have been investigating the use of neat chemical reactions to remove undesired compounds from naturally sourced water and to prepare the water for its safe journey through distribution systems.
Normally, there is little public interest to understand the chemistry behind drinking water treatment including the proven technologies that provide safe water to people. However, it took less than a day until a story from Onoway, a small town in Alberta, Canada, with just over 1,000 residents made it from the social media into the global newsfeeds: "Bright pink water comes out of taps in Canada!". What has happened?
The local drinking water treatment plant of Onoway uses potassium permanganate to remove dissolved iron and manganese from the raw drinking water. Iron and manganese are not harmful to human health but if these metal ions are present at higher concentrations this can lead to deposits in the water distribution system and discolouration of the water. The colour is auburn in case of iron or darkish in the case of manganese, which are rather boring tints compared to the spectacular pink that has raised global interest and lively Twitter and Facebook discussions.
Customers are very sensitive to the colour, the taste and the odour of a drinking water provided, as these are the native human senses to assess water quality.
The pink colour stems from some potassium permanganate that escaped through a failed valve with the treated water into the drinking water distribution system. This water eventually ended up with the customers.
Permanganate has been used for drinking water treatment for more than 100 years. Beyond being widely used for iron and manganese removal it is also handy for taste and odour removal as well as to control biological growth in treatment works. Its chemical structure KMnO4, that includes four oxygen atoms, and the prefix "per" provide an indication why it is useful. Potassium permanganate is an electron deficient chemical and a strong oxidant that readily reacts with a wide range of unwanted compounds in water.
Therefore, potassium permanganate belongs to an established group of water treatment chemicals that can be summarized under the term "conventional chemical oxidants". These also include oxygen, chlorine, chlorine dioxide, ozone and hydrogen peroxide and, in the wider sense UV-light, for water treatment.
After the reaction permanganate forms solid manganese dioxide that is removed by filtration or precipitation processes. The typical treatment dosage for potassium permanganate is 1 to 3 mg per litre of water. Only the unreacted potassium permanganate has a visible pink colour at concentrations as low as 0.05 mg per litre of water. Due to its still bright colour at low concentrations customer complaints with regard to residual permanganate are known to occur, and treatment works take care to remove any unreacted permanganate before the water is released into the distribution system.

The pink water does not pose a threat to human health. Although skin irritation related to potassium permanganate is known, the present concentration might have been too low to cause any effect and customers were not at risk. Customers should rely on alternative drinking water sources until the permanganate is flushed out of the distribution system.      
For water treatment there is no "one-size fits all approach". Drinking water treatment processes vary due to different local water resources and the traditional use of established technologies. Iron and manganese can be also removed by aeration, using the oxygen present in air, or by running the water over catalytic granules consisting of manganese dioxide. Other conventional oxidants may also serve as an alternative for potassium permanganate. Each of the methods has specific advantages and disadvantages, for example with regard to ease of operation, side reactions, energy and infrastructure costs. These parameters need to be evaluated before making an informed decision, which method to be used.
Nevertheless, potassium permanganate treatment processes are certainly among the most colourful water treatment methods.