About
OMEX Environmental ltd are leading experts in the field of wastewater treatment solutions. With over 30 years' experience, OMEX have a vast knowledge on what is needed for WWT plants to operate at their maximum potential. OMEX products are designed to help you operate in a safe and environmentally friendly manner ensuring compliant discharge to sewer and surface water and saving you overall on operational costs. We have a specific range of treatment solutions to deal with all types of wastewater concerns such as acidic wastewater, septicity treatment and sludge control. These products include Magmex, a safe alternative to caustic and lime, designed to control pH levels within both aerobic and anaerobic systems, Nutromex, Nitrogen and Phosphorous solutions to help with the biology of a plant and Anomex, sodium and calcium nitrate solutions, to prevent sulphide gas build up in municipal sewage treatment plants. We are proud to have our own UK based Laboratory where we can analyse effluent samples to investigate the best treatment solution and optimise plant performance.
Anomex
Anomex products are non-hazardous blends of sodium or calcium nitrate for simple and accurate dosing; proven to be extremely cost effective and efficient septicity control agents, tested, used and approved by UK water companies.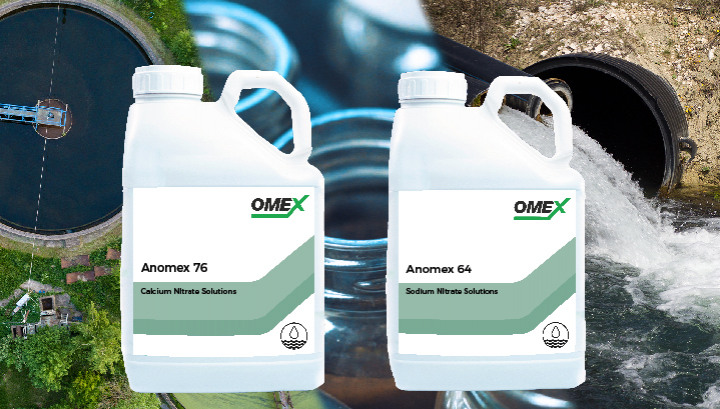 Without suitable treatment, sewage and wastewater can damage the environment and create public health problems. One of the problems associated with this is odour complaints which are caused when bacteria in the wastewater utilise all the available oxygen and reduce any sulphates present to sulphides.
This lack of air supply, stagnant areas and warm temperatures all promote undesirable biological activity, which results in severe acid corrosion and septicity causing severe damage to sewers.
Anomex prevents sulphide gas build up, metal corrosion of tanks and pipes and prevents unpleasant odours.
Anomex 64
A sodium nitrate solution used in biological wastewater treatment.
Anomex 76
A calcium nitrate solution also used to prevent odour and septicity issues but a slightly stronger concentrated solution, meaning dosing is not as frequent.
Application Equipment
In addition, OMEX can supply and install a wide range of dosing systems to ensure regular and consistent dosing of Anomex is achieved. Standard units of 2500 Litre, 6000 Litres and further sizes including 10,000 Litre can be supplied to include onsite commissioning, site installation and tank fill.