About
Smith & Loveless Inc., an international leader in off-site build sewage pumping systems and process sewage treatment equipment. With a global installation footprint that spans more than 70 years, tens of thousands of equipment installations and all seven continents, Smith & Loveless is increasing its presence in the United Kingdom. Despite its global success and reach, the medium-sized company is not an impersonal corporate conglomerate, but remains a family-run organization of dedicated professionals who value assisting their clients. Smith & Loveless established its industry legacy by pioneering complete packaged (pre-engineered) systems for sewage lift stations and treatment plants in the 1950s. Significant growth led to the development of a complete line of wastewater treatment and pumping equipment– and the on-going development of new products. While the equipment offerings appear to be diverse, they each retain the common traits important to Smith & Loveless' design philosophy: superior life-cycle costs based on long-lasting, efficiently performing, and easy-to-maintain equipment.
TITAN MBR Membrane Bioreactor
Delivering the Best MBR Experience The enhanced TITAN MBR™ Membrane BioReactor treatment system delivers the industry's best operator experience with the greatest ease of operation and maintenance of any MBR through superior high performance flat sheet membranes, easier component access, intuitive graphical touchscreen PLC controls, smart advanced data monitoring and communications, reduced process complexity, and a streamlined membrane clean-in-place process. It is designed with a stable process tailored to your permit requirements, and capable of achieving superior effluent quality and Title 22 (CA, USA) approved water reuse. The TITAN MBR™ features a robust system design with stainless-steel componentry and streamlined electrical layout with an operator friendly wire management system. The treatment plant will arrive in a complete and compact factory-built system with significantly less field assembly for even swifter installation and start-up. The TITAN MBR™ will provide you with the lowest cost of ownership, best available technology and lowest O&M, creating your best value.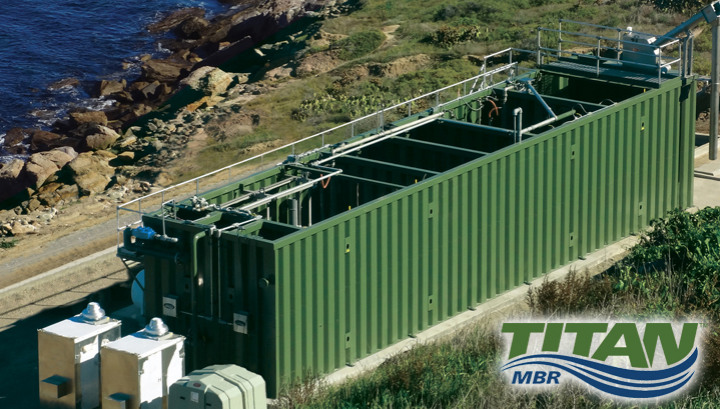 Flows: Up to 11,350 cmd (3 MGD)
Models: Packaged and Field-Erected Systems
Design: BOD, TSS & Nutrient Removal