About
Smith & Loveless Inc., an international leader in off-site build sewage pumping systems and process sewage treatment equipment. With a global installation footprint that spans more than 70 years, tens of thousands of equipment installations and all seven continents, Smith & Loveless is increasing its presence in the United Kingdom. Despite its global success and reach, the medium-sized company is not an impersonal corporate conglomerate, but remains a family-run organization of dedicated professionals who value assisting their clients. Smith & Loveless established its industry legacy by pioneering complete packaged (pre-engineered) systems for sewage lift stations and treatment plants in the 1950s. Significant growth led to the development of a complete line of wastewater treatment and pumping equipment– and the on-going development of new products. While the equipment offerings appear to be diverse, they each retain the common traits important to Smith & Loveless' design philosophy: superior life-cycle costs based on long-lasting, efficiently performing, and easy-to-maintain equipment.
PISTA® 360™ with V-FORCE BAFFLE™ Grit Removal System
95% grit removal of 105 micron and larger! The PISTA® 360™ Grit Chamber is equipped with the V-FORCE BAFFLE™, which is an integral flow control baffle for both the inlet and outlet of the main chamber. The V-FORCE BAFFLE™ is designed to direct the inlet flow into the chamber in a manner ensuring the proper vortex flow and to prevent short-circuiting, allowing for a full 360° rotation through the inlet and outlet, providing maximum grit removal. The V-FORCE BAFFLE™ on the outlet directs the flow out of the unit and acts as a "slice weir" to control the water level in the main chamber and in the inlet channel. No additional downstream flow control device is required to keep the velocity between 1.1 m/s (3.5 f/s) at peak flow and.5 m/s (1.6 f/s) at minimum flow with a 10:1 turn down.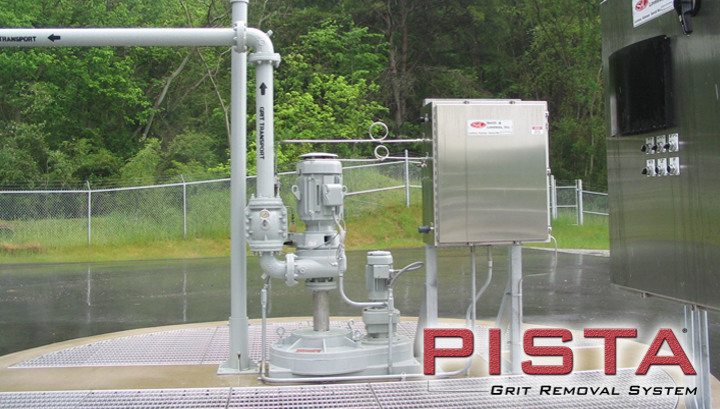 Capacities: up to 378,500 cmd (100 MGD)
Arrangement: 360° with V-FORCE BAFFLE™
Removal %: 95% down to 105 micron (140 mesh)