About
Smith & Loveless Ltd. is proud to manufacture and market the diverse water and sewage handling technologies from transcontinental affiliates Smith & Loveless Inc. and Kalsep UK Ltd. With a particular focus on the UK and European market, S&L Ltd. offers a complete line of water and sewage pumping, inlet works, filtration and treatment systems. We offer complete technical service and spare parts from an in-stock inventory.
PISTA® 360™ with V-FORCE BAFFLE™ Grit Removal System
95% grit removal of 105 micron and larger! The PISTA® 360™ Grit Chamber is equipped with the V-FORCE BAFFLE™, which is an integral flow control baffle for both the inlet and outlet of the main chamber. The V-FORCE BAFFLE™ is designed to direct the inlet flow into the chamber in a manner ensuring the proper vortex flow and to prevent short-circuiting, allowing for a full 360° rotation through the inlet and outlet, providing maximum grit removal. The V-FORCE BAFFLE™ on the outlet directs the flow out of the unit and acts as a "slice weir" to control the water level in the main chamber and in the inlet channel. No additional downstream flow control device is required to keep the velocity between 3.5 f/s (1.1 m/s) at peak flow and 1.6 f/s (.5 m/s) at minimum flow with a 10:1 turn down.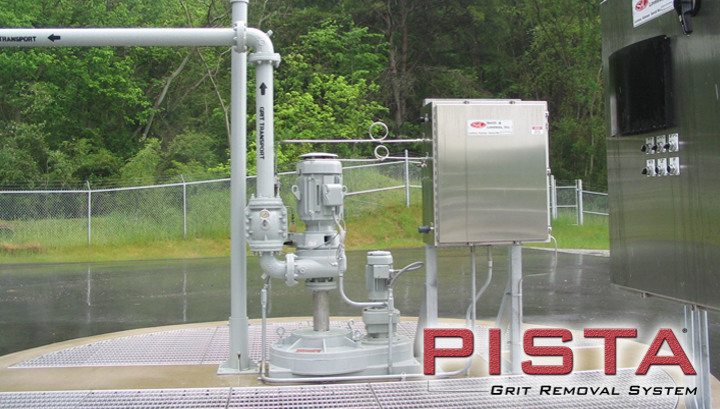 Capacities: up to 100 MGD (378,500 cmd)
Arrangement: 360° with V-FORCE BAFFLE™
Removal %: 95% down to 140 mesh (105 micron)