About
Smith & Loveless Inc., an international leader in off-site build sewage pumping systems and process sewage treatment equipment. With a global installation footprint that spans more than 70 years, tens of thousands of equipment installations and all seven continents, Smith & Loveless is increasing its presence in the United Kingdom. Despite its global success and reach, the medium-sized company is not an impersonal corporate conglomerate, but remains a family-run organization of dedicated professionals who value assisting their clients. Smith & Loveless established its industry legacy by pioneering complete packaged (pre-engineered) systems for sewage lift stations and treatment plants in the 1950s. Significant growth led to the development of a complete line of wastewater treatment and pumping equipment– and the on-going development of new products. While the equipment offerings appear to be diverse, they each retain the common traits important to Smith & Loveless' design philosophy: superior life-cycle costs based on long-lasting, efficiently performing, and easy-to-maintain equipment.
FAST® Fixed Activated Sludge Treatment System
The patented FAST® Process stands for "Fixed Activated Sludge Treatment," a fixed-film, aerobic treatment system (fixed bed biological reactor) designed for tackling variable load and flow conditions. Proven in thousands of installations worldwide, FAST® consists of tankage packed with completely submerged media. The FAST® media creates a high surface area-to-volume ratio, which, combined with internal settling zones, maintains constant bacterial growth during low-flow and peak usage. This results in stable operation on a daily basis. FAST® comes available in factory-built or field-installed modules, providing high performance treatment in a minimal space. The popular Modular FAST® arrangement handles smaller, variable flows generated from onsite applications, including schools, small developments, commercial and public facilities, and hospitality venues such as hotels, camps, and restaurants. No daily operation is required. FAST® provides significantly improved performance over traditional leach field and septic tank systems, especially when a nitrification/denitrification component is specified in permit or effluent requirements.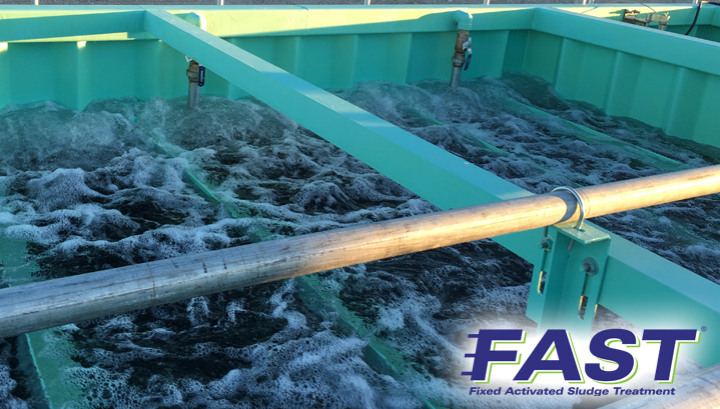 Flows: up to 3,800 cmd (1,000,000 GPD)
Higher flows for field-erected systems
Models: Factory-Built, Field-Erected, Steel & Concrete
Design: BOD, TSS & Nutrient Removal