About
Fresh water is a scarce and critical resource for people, the planet and businesses. Economic and social development comes with a resilient water supply and responsible waste strategy. Evides Industriewater creates solutions for businesses that seek to minimise waste of vital resources and energy, thereby creating the best solution for the environment too. Our customers in The Netherlands, Belgium, Germany and the UK are realising the benefits of our Water Without Waste philosophy.
Waste Water Re-Use
After treatment, waste water is normally discharged to rivers or the sea. But with sustainability becoming more and more important in our society and the very real threat of a shortage of fresh water, there is a growing interest in the re-use of (waste) water and in closing the loop of the Circular Economy for Water. Evides Industriewater's pioneering research and development team have made this happen on a huge and commercially viable scale for our clients in the Netherlands.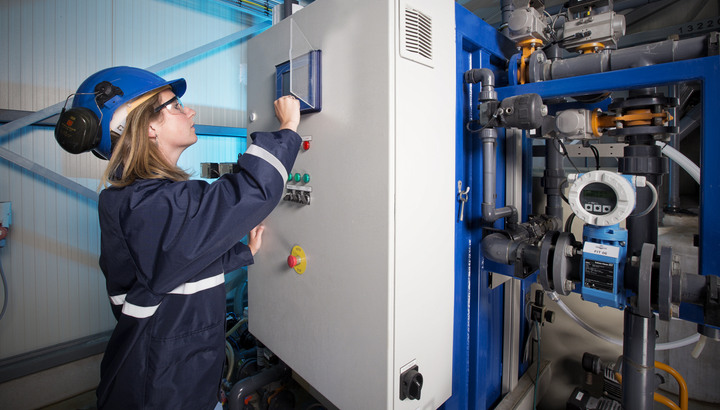 Effluent as Process Water
Effluent from waste water treatment plants can be upgraded to process water. The quality of this water is highly variable, but in most cases it can be used as industrial or agricultural water. It can also serve as a source for upgrading to high-quality demineralised water.
Membrane technology
In recent decades, Evides Industriewater has gained a wealth of experience with membrane technology (MF, UF and RO). With this technological knowledge, we are able to design, build and operate effective purification plants that purify effluent very effectively and make it suitable for re-use.
The advantages of recycling waste water
The advantages of waste water re-use are obvious: a smaller water footprint and cost savings due to the reduced consumption of drinking water:
The re-use of freshwater effluent is much cheaper than the desalination of seawater,
It has significant environmental benefits as it reduces the use of fresh water and the discharge of treated wastewater.
Applications of waste water re-use
At our client Dow Benelux in Terneuzen, we have built the largest effluent recycling plant in the Netherlands, with a capacity of 600 m3 per hour. We purify some of the industrial waste water from Dow Benelux and turn it into cooling-tower water. Further re-use water is obtained from the municipal waste water treatment works and is upgrade to demineralised water at Dow. Reuse water is also applied locally to agricultural greenhouses.