About
Fresh water is a scarce and critical resource for people, the planet and businesses. Economic and social development comes with a resilient water supply and responsible waste strategy. Evides Industriewater creates solutions for businesses that seek to minimise waste of vital resources and energy, thereby creating the best solution for the environment too. Our customers in The Netherlands, Belgium, Germany and the UK are realising the benefits of our Water Without Waste philosophy.
Demineralised Water
Industrial processes and energy production require the highest quality standard of demineralised water. If high quality, low conductivity, demin water is essential for your process then Evides Industriewater is one the World's most experienced and reliable partners, supplying over 2,500 cubic metres per hour at our combined plants.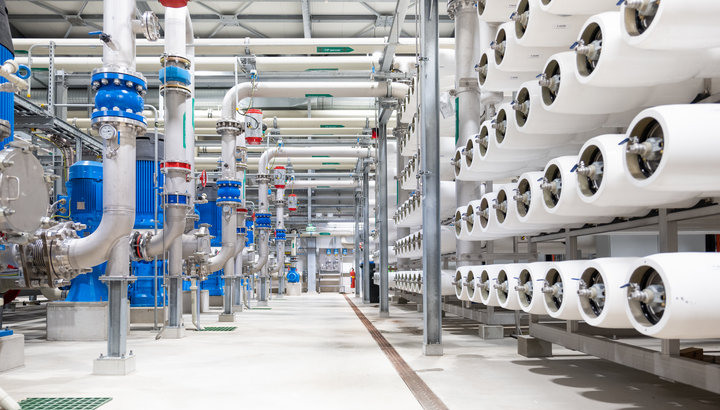 High-quality technologies for the best demiwater
To obtain demineralised water, we use membrane filtration and ion exchange, among other things. That way, not only are all the suspended particles (such as sand and algae) removed from the water but the water is also stripped of other constituents.
Demin-water for a wide range of applications
Our demin-water is mainly used for the production of high-pressure steam. The ultra-pure quality of the demin-water guarantees good conductivity and prevents contamination in turbines. The steam that is produced can be deployed as a heat source in distillation processes in the petrochemical industry. The chemical industry, the energy sector and the food & beverage industry also use our demin-water.
Quality and cost-effectiveness
Reliability and supply security are priorities for us when it comes to demin-water. After all, the best product results in the most stable and therefore the most cost-effective processes. We guarantee a high degree of reliability and a sustainable delivery.
Demin-Water Plant Botlek and custom-designed plants
From our Botlek Demin-water Plant (DWP), we supply numerous companies with high-quality demin-water based on a 'one size fits all' philosophy. In cases where this commodity system is not sufficient, we also realise custom-designed plants based on Design, Build, Finance, Operate (DBFO) contracts. Because we work independently of suppliers, we can build and manage these plants very cost-effectively.
Demin-water solutions for a wide range of customers
Our demin-water solutions are used at Shell / Air Liquide, Albemarle, Dow Benelux, Esso, Gunvor, Jara and Cargill, amongst others. We also supply them to BASF in Antwerp and Dow Chemical in Stade (near Hamburg).
Why demiwater from Evides Industriewater?
• High quality
• Sustainable solutions
• Innovative technologies
• Full support possible