Obart Pumps Limited
About
We are a pump company based at Maidstone, in the heart of Kent. For over 40 years we have aimed to offer the right products, at the right time and at the right price. From humble beginnings selling builder's equipment in South London in the 1970s, we have now evolved into the UK's only national pump distributor with WEE registration and environmental accreditation. Our modern outlook is built on traditional values of friendly assistance and knowledgeable advice. Our key objectives are for you to enjoy your buying experience, for you to be totally satisfied with our products and service while minimising the environmental impact of our activities. Our 20,000ft², purpose built warehouse, has a large stockholding which enables us to not only supply quickly to an individual requirement but also copes with the widely fluctuating demands experienced during periods of extreme weather. We deal efficiently with orders to ensure the same day despatch of stock items.
Contact
Mr Lee Walker
Obart Pumps Ltd
20/20 Industrial Estate
Maidstone
Kent
ME16 0FZ
www.obartpumps.co.uk
Hose and Fittings
We have vast stocks of high-quality water hose in diameters from 12mm (½") to 150mm (6"), which can be purchased in cut lengths or in full-length coils. Our pipe fittings range includes all types of hose connectors, nipples, sockets, bushes, elbows, tees, valves, strainers and hose clips…many available in plastic or metal…from 12mm (½") upwards!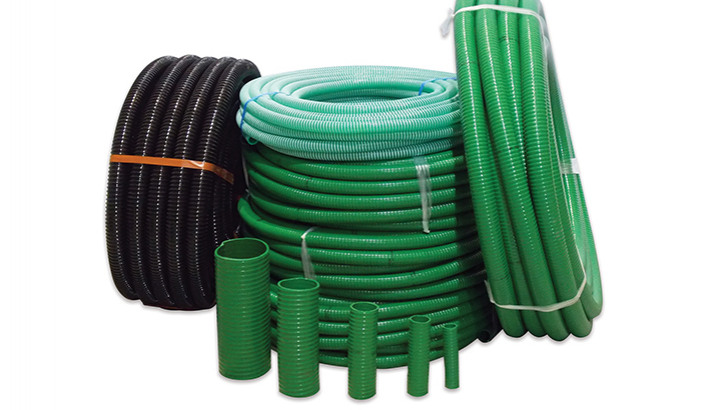 Our Suction and Delivery Hose is constructed from a rigid, yet flexible, nylon material with an embedded spiral helix for reinforced construction and shock resistance. It is commonly used for the suction of various liquids and abrasive materials. These hoses can be used both on the suction and delivery sides of any surface mounted water pump, or the delivery side of a submersible pump.
 - Embedded nylon spiral-helix reinforced, PVC flexible hose.
 - Supplied in cut lengths or 30 metre coils.
 - Hose colour: GREEN TINT
 - Working pressure (bar): 8
 - Material: PVC
Suction and Delivery Hose - ¾" x 6 metres
For more information, please click here