Obart Pumps Limited
About
We are a pump company based at Maidstone, in the heart of Kent. For over 40 years we have aimed to offer the right products, at the right time and at the right price. From humble beginnings selling builder's equipment in South London in the 1970s, we have now evolved into the UK's only national pump distributor with WEE registration and environmental accreditation. Our modern outlook is built on traditional values of friendly assistance and knowledgeable advice. Our key objectives are for you to enjoy your buying experience, for you to be totally satisfied with our products and service while minimising the environmental impact of our activities. Our 20,000ft², purpose built warehouse, has a large stockholding which enables us to not only supply quickly to an individual requirement but also copes with the widely fluctuating demands experienced during periods of extreme weather. We deal efficiently with orders to ensure the same day despatch of stock items.
Contact
Mr Lee Walker
Obart Pumps Ltd
20/20 Industrial Estate
Maidstone
Kent
ME16 0FZ
www.obartpumps.co.uk
Engine Pumps
Engine water pumps are powered by petrol or diesel. Engine driven pumps are designed to be used out of the water and must not be used inside buildings or partially enclosed areas. Pump end options are either centrifugal or diaphragm. Both require inlet and outlet pipe. A centrifugal engine water pump requires priming initially to self-prime and should not run without water. A diaphragm engine driven water pump does not need priming and it can run dry.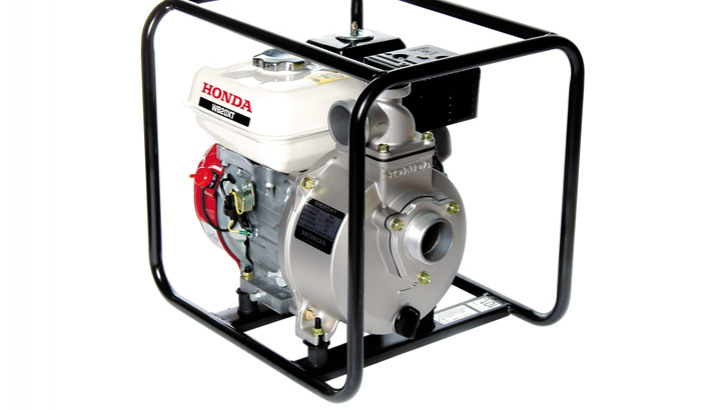 The WB Water Pumps in Carry Frame are self-priming pumps powered by 4 stroke Honda engines. Compact, portable, easy to start up and operate they can pump clean dirty water. Robust design, with good flows and pressure, they are suitable for irrigation, site use and general transfer. WB and TE2 Engine pump in carry frame models also feature oil alerts for engine misuse protection. 
For more information on our Engine Pumps, please click here