About
We are Siltbuster Process Solutions The UK's number one solution provider for modular and packaged treatment systems for the municipal and industrial wastewater sectors. We offer an unrivalled range of rapidly deployable solutions available either for hire or purchase. The extensive range of modular treatment systems (over 500+ hire fleet units + sales), coupled with the highly experienced team enable effective enable effective and responsive solutions to be delivered to ensure compliance and that production levels are sustained. Since the launch of the original Siltbuster unit in May 2003, Siltbuster Process Solutions (SPS) has become the UK's leading provider of wastewater treatment solutions. Set up and run by an experienced 75+ team of process engineers, scientists and support staff SPS provides an unrivalled range of technologies, practical and commercially viable solutions. In 2017, Siltbuster moved into a bespoke built facility within 10 acre of land, complete with research and development area and in-house 'state of the art' laboratory. SPS continuously works with numerous water companies and is a multiple innovation and industry award winner.
Siltbuster Siltstoppa Dewatering Bags (Dewatering Solutions)
Siltbuster offers an extensive range of systems for dewatering of solids from clay, concrete, grout and other forms of fines-laden wash waters.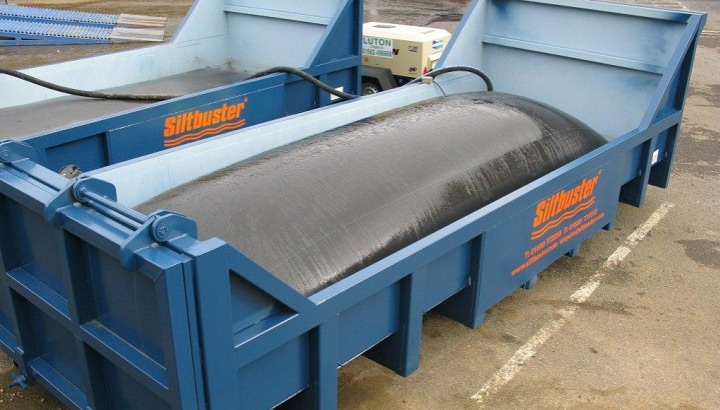 Siltstoppa dewatering bags provide a low cost solution for the dewatering of sludges and slurries.
Pre-conditioned (flocculated) slurry is pumped into the Siltstoppa Bag and allowed to dewater. The water released from the sludge bleeds through the geotextile fabric whilst the trapped solids remain in the bag.
When the bag is full and the trapped solids have dewatered, the Siltstoppa bag can either be split open on-site and the dewatered solids removed by means of an excavator (or similar equipment), or the full RORO container can be transported for off-site disposal.
Siltstoppa De-watering Bags are available individually, to sit on a suitable slab or drainage area or can be supplied as a complete treatment solution including as required sludge conditioning unit, and roll-on/roll-off (RORO) container.
Typical Applications
Siltbuster Siltstoppa Dewatering Bags Specs
Separation Method Geotextile Membrane
Height Expands untill full
Length 5.5m
Width 2.1m
Dry Weight Size Dependent
Materials Sludges and Slurries
Material Colour Black
Bag Capacity 6m3
Operating Range Material Dependent