About
We are Siltbuster Process Solutions The UK's number one solution provider for modular and packaged treatment systems for the municipal and industrial wastewater sectors. We offer an unrivalled range of rapidly deployable solutions available either for hire or purchase. The extensive range of modular treatment systems (over 500+ hire fleet units + sales), coupled with the highly experienced team enable effective enable effective and responsive solutions to be delivered to ensure compliance and that production levels are sustained. Since the launch of the original Siltbuster unit in May 2003, Siltbuster Process Solutions (SPS) has become the UK's leading provider of wastewater treatment solutions. Set up and run by an experienced 75+ team of process engineers, scientists and support staff SPS provides an unrivalled range of technologies, practical and commercially viable solutions. In 2017, Siltbuster moved into a bespoke built facility within 10 acre of land, complete with research and development area and in-house 'state of the art' laboratory. SPS continuously works with numerous water companies and is a multiple innovation and industry award winner.
Siltbuster Mix Tanks - Chemical Dosing
The Siltbuster range of Chemical Dosing Systems provides flow-proportional dosing of process chemicals to correct pH, remove dissolved metals and flocculate solids. A range of dosing and mixing options are available, tailored to the application for optimal performance.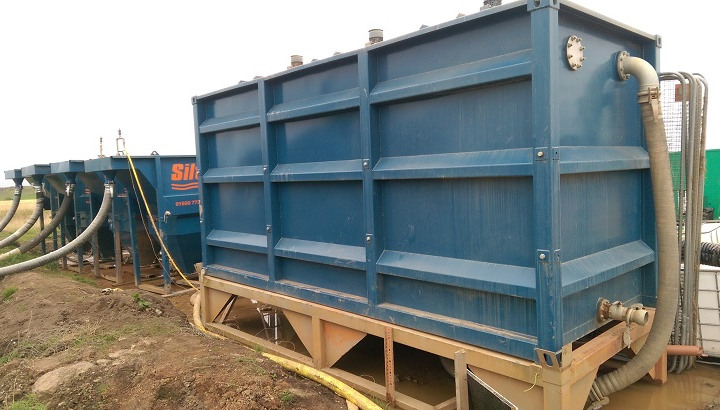 A range of Siltbuster mix tanks are available from 1m³ to 30 m³ capacity, with baffles providing separation of multiple treatment stages. Top mounted, variable speed mixers provide controlled mixing of chemicals. Mix tanks are well suited to applications where flocs are fragile or flow varies because of the increased control over mixing they provide.
To ensure floc protection and remove the need for additional pumping, mix tanks can be provided with support steelwork, allowing flocculated wastewater to gravitate to the separation stage if required.
A range of different sizes are available to cater for different flow rates. Mix tanks are typically provided as part of a complete treatment system comprising dosing before separation in a lamella clarifier or DAF, but are also used to pre-treat sludge ahead of dewatering.
Siltbuster Mix Tanks Specs
MT1 1m3 MixTank
MT2 2m3 Mix Tank
MT4 4m3 Mix Tank
MT8 8m3 Mix Tank
MT30 30m3 Mix Tank based on an ISO 20 Container
Typical Applications
Flocculation
pH correction