About
We are Siltbuster Process Solutions The UK's number one solution provider for modular and packaged treatment systems for the municipal and industrial wastewater sectors. We offer an unrivalled range of rapidly deployable solutions available either for hire or purchase. The extensive range of modular treatment systems (over 500+ hire fleet units + sales), coupled with the highly experienced team enable effective enable effective and responsive solutions to be delivered to ensure compliance and that production levels are sustained. Since the launch of the original Siltbuster unit in May 2003, Siltbuster Process Solutions (SPS) has become the UK's leading provider of wastewater treatment solutions. Set up and run by an experienced 75+ team of process engineers, scientists and support staff SPS provides an unrivalled range of technologies, practical and commercially viable solutions. In 2017, Siltbuster moved into a bespoke built facility within 10 acre of land, complete with research and development area and in-house 'state of the art' laboratory. SPS continuously works with numerous water companies and is a multiple innovation and industry award winner.
Siltbuster MBBR (Moving Bed Biofilm Reactors)
Biological Treatment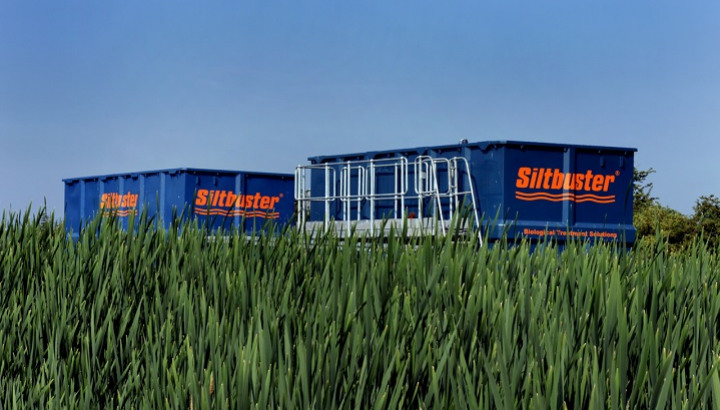 Siltbuster's range of Moving Bed Biofilm Reactors (MBBR) are designed to be plug and play solutions to integrate with the existing Siltbuster range of packaged treatment solutions.
Based on established fixed film biological treatment our MBBR uses media with a specific area of up to 1000m2/m3. This leads to the MBBR providing a greater treatment capacity within the same footprint when compared with traditional mobile treatment solutions, such as Submerged Aerated Filters (SAFs).
The aeration system uses multiple diffusers within each compartment to provide an even air distribution for mixing energy whilst also maximising the oxygen transfer efficiency. A blower skid delivers the air flow through a common manifold with the connection at ground level. The air flow rate is controlled by a dissolved oxygen meter for optimisation of biological treatment whilst minimising energy consumption.
The MBBR uses a plastic carrier media with a large specific surface area which provides an optimal attachment surface. The movement of the media allows for the regulation of biomass accumulation, thus avoiding the need for scour cycles. Media is retained within each compartment through screens.
Automatic anti-foam dosing can be provided to counteract the foaming that is common with biological treatment systems during seeding. The system utilises a sensor that detects whether foam is present and stops dosing when foaming has been stopped.
Typical Applications
Roughing ahead of existing treatment
Supplementing existing treatment
Tertiary/polishing
Temporary treatment capacity for planned works or site compliance
Replacement or upgrading the existing works.
Our Range of MBBR's
MBBR 10
MBBR 20
MBBR 30
MBBR 65