About
We are Siltbuster Process Solutions The UK's number one solution provider for modular and packaged treatment systems for the municipal and industrial wastewater sectors. We offer an unrivalled range of rapidly deployable solutions available either for hire or purchase. The extensive range of modular treatment systems (over 500+ hire fleet units + sales), coupled with the highly experienced team enable effective enable effective and responsive solutions to be delivered to ensure compliance and that production levels are sustained. Since the launch of the original Siltbuster unit in May 2003, Siltbuster Process Solutions (SPS) has become the UK's leading provider of wastewater treatment solutions. Set up and run by an experienced 75+ team of process engineers, scientists and support staff SPS provides an unrivalled range of technologies, practical and commercially viable solutions. In 2017, Siltbuster moved into a bespoke built facility within 10 acre of land, complete with research and development area and in-house 'state of the art' laboratory. SPS continuously works with numerous water companies and is a multiple innovation and industry award winner.
Siltbuster Filter Presses (Dewatering Solutions)
Siltbuster offers an extensive range of systems for de-watering of solids from clay, concrete, grout and other forms of fines-laden wash waters.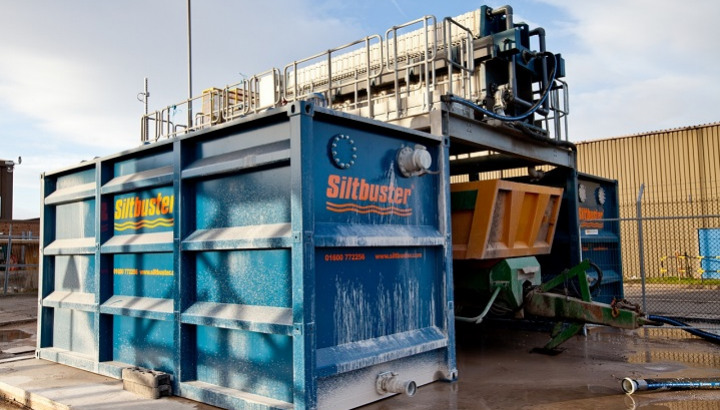 Siltbuster's range of filter presses are suitable for rapid deployment to site making them ideal for use on short term projects and/or as a means of providing additional/emergency treatment capacity in support of existing on-site dewatering facilities.
Our presses are normally located on their own dedicated stand enabling the pressed solids (filter cake) to be discharged directly into a standard waste skip and comes complete with an integral feed pump which automatically provides for the transfer of the sludge into the press.
Siltbuster can provide a filter press as either a standalone unit or as part of a complete water treatment / dewatering package. Where appropriate Siltbuster can also undertake pre-project laboratory testing, dewatering trials, full installation and commissioning support.


Our Range of Filter Presses:
10L Demonstation Filter Press
280L Filter Press
900L Filter Press
2.5m3 Filter Press
Siltbuster are also able to offer a filter press, mounted on an articulated trailer which can be rapidly deployed on-site with minimal additional requirements. Making it ideal for large scale temporary works where a dewatering solution is required.