About
We are Siltbuster Process Solutions The UK's number one solution provider for modular and packaged treatment systems for the municipal and industrial wastewater sectors. We offer an unrivalled range of rapidly deployable solutions available either for hire or purchase. The extensive range of modular treatment systems (over 500+ hire fleet units + sales), coupled with the highly experienced team enable effective enable effective and responsive solutions to be delivered to ensure compliance and that production levels are sustained. Since the launch of the original Siltbuster unit in May 2003, Siltbuster Process Solutions (SPS) has become the UK's leading provider of wastewater treatment solutions. Set up and run by an experienced 75+ team of process engineers, scientists and support staff SPS provides an unrivalled range of technologies, practical and commercially viable solutions. In 2017, Siltbuster moved into a bespoke built facility within 10 acre of land, complete with research and development area and in-house 'state of the art' laboratory. SPS continuously works with numerous water companies and is a multiple innovation and industry award winner.
Siltbuster Dissolved Air Flotation Units (DAF)
Our range of Packaged Lamella Dissolved Air Flotation (DAF) units are ideal for the removal of Solids, Fats, Oils and Greases (FOGs) from industrial waste water and hydrocarbons on environmental remediation projects.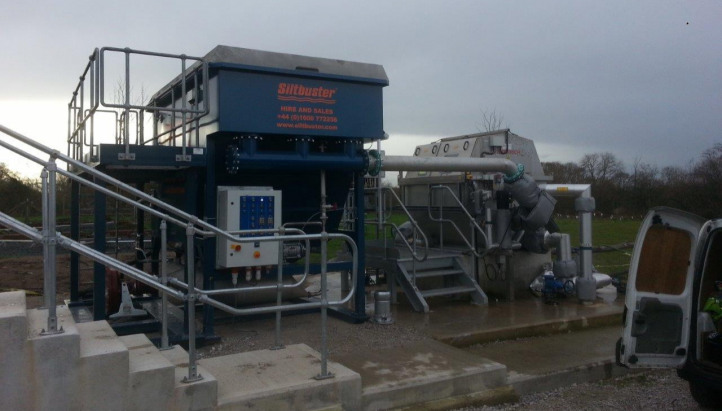 Using established solids/liquid separation technology, the DAF units generate whitewater by dissolving air under pressure and then releasing the pressure to form microfine air bubbles.
Solids and other particulates preferentially attach to the air bubbles and rise to the surface of the DAF unit where they are collected, thickened and removed by a motorised scraper.
Treated water can then be reused or discharged off site as necessary. The Siltbuster DAF units are avalible to hire to purchase, depending on your requirements.
Click here to download further information.
Range of models available:
0 1m3 to 150+m3/hr treatment capacity
0 Integrated white water system
0 Chemical pre-treatment and dosing systems available
0 Full technical and process support
0 Hire or Buy
Treatment Applications:
0 Industrial effluent
0 Potable and process water
0 Activated sludge thickening
0 Municipal waste water
0 Oil/hydrocarbon recovery
Rent a DAF ? Process Solutions at your finger tips
Standard packaged units are available from our extensive hire fleet for short term treatment requirements, pilot trials, or site demonstration of the system prior to the purchase of a larger or bespoke system.
Advantages of a Siltbuster DAF unit
Lamella plate technology increases the effective area of the unit giving an enhanced hydaulic capacity
A multi-phase side channel pump generates the whitewater? in the unit and eliminates the need for a separate compressor and air saturation vessel? just plug in the power and start the operation
Sturdy and compact with a significantly smaller footprint than most conventional units, they are easily transportable and available to rent
All units can be provided with integral access platforms and chemical dosing systems, pipe flocculators, etc.
The Siltbuster range has been specifically designed for mobility and provides clients with a range of readily available equipment to:
Augment existing treatment capacity during periods of abnormal loading
Provide emergency treatment facilities in the event of equipment failure
Provide temporary treatment whilst the facility is taken off line for repair/maintenance
Enables large scale pilot plant trials