About
We are Siltbuster Process Solutions The UK's number one solution provider for modular and packaged treatment systems for the municipal and industrial wastewater sectors. We offer an unrivalled range of rapidly deployable solutions available either for hire or purchase. The extensive range of modular treatment systems (over 500+ hire fleet units + sales), coupled with the highly experienced team enable effective enable effective and responsive solutions to be delivered to ensure compliance and that production levels are sustained. Since the launch of the original Siltbuster unit in May 2003, Siltbuster Process Solutions (SPS) has become the UK's leading provider of wastewater treatment solutions. Set up and run by an experienced 75+ team of process engineers, scientists and support staff SPS provides an unrivalled range of technologies, practical and commercially viable solutions. In 2017, Siltbuster moved into a bespoke built facility within 10 acre of land, complete with research and development area and in-house 'state of the art' laboratory. SPS continuously works with numerous water companies and is a multiple innovation and industry award winner.
Llys y Fran WwTW
Full (small scale) temporary treatment plant to replace existing works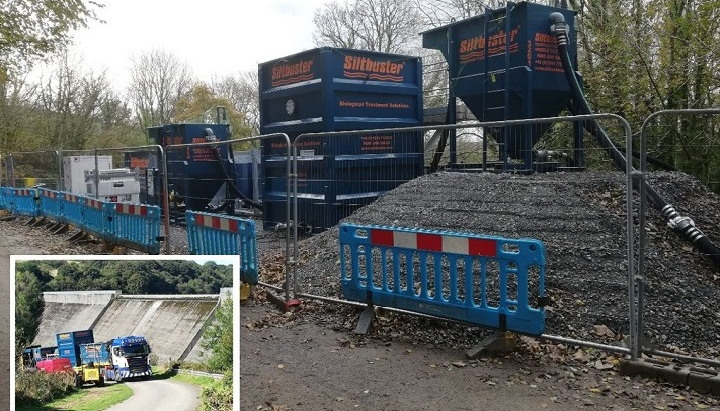 Client: Young Bros (Dŵr Cymru Welsh Water).
Site Name: Llys y Frân WwTW
Date: October 2019 
Effluent Type: Sewage wastewaters (Screened)
Treatment needs: Full (small scale) temporary treatment plant  to replace existing works.  
Design Parameter:
Peak Flow to the plant (m3/d) 35.5
Average Flow to the plant (m³/d) 6
Peak BOD load to the plant (kg/d) 2.5
Peak NH4-N load to the plant (kg/d) 0.4
Narrative:
Provision of 2 No. HB20 lamella settlement units, 1 No. MBBR10 and a sludge holding tank to act as a temporary treatment system during demolition of existing works and build of replacement WwTW.