About
Aerzen is one of the leading suppliers of two-shaft positive displacement machines worldwide. Aerzener Maschinenfabrik GmbH is an industry-leading positive displacement blower, screw compressor manufacturer, family-owned and run, and in existence since 1864. Aerzen Machines Limited is a wholly-owned daughter Company of the group, charged with servicing and supporting all Aerzen customers and clients in the UK and Ireland. ISO 9001, 14001 and OHSAS 18001 registered, the Company are UVDB verified and Investors in People certified. This all ensures that customers are given the highest possible standards of quality, health and safety, and environmental impact assurance. Aerzen have specialist teams of product managers for blowers, oil-free compressors, vacuum boosters, biogas and process gas blowers and compressors, Centrifugal Turbo compressors and our new range of energy-efficient Hybrid machines that are providing class-leading efficiencies and WLC's to industry. Aerzen also offer rental solutions for blowers compressors and ancillaries with package machines available for
Contact
Mr Matthew Morey
Aerzen House
Langston Road
Loughton
Essex
IG103SL
www.aerzen.com
ROTARY LOBE COMPRESSORS DELTA HYBRID
Delta Hybrid rotary lobe compressor for air and neutral gases. Positive pressure, negative pressure design. For volume flows from 110 to 9000 m3/h.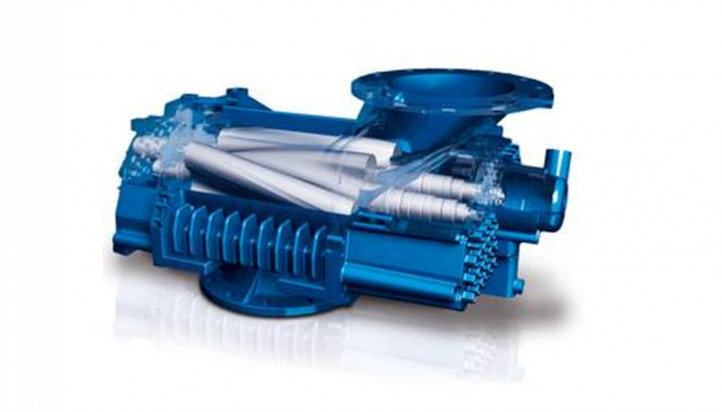 Delta Hybrid is a groundbreaking Rotary Lobe Compressor that is the result of a synergy between the rotary lobe blower and the screw compressor technologies. It offers completely new possibilities for generating positive pressure or vacuum by combining the technical advantages of both concepts.
While low pressure applications call for the Roots-Principle of isochoric compression, the screw compressor, with its internal compression, becomes the preferred choice for its energy efficiency in higher pressure ranges. The package concept is based on the well known and successful Aerzen Delta design (Delta Blower and Delta Screw) and has been systematically upgraded.
Key benefits
Energy efficiency (energy savings of up to 15%)
Reduced life-cycle costs
Greatly increased range of applications and pressures (control range of 25% to 100%)
High levels of reliability
Long service life
Reduced maintenance needs
Processed air 100% free of oil and absorption materials
Applications
Sewage treatment
Drinking water purification
Pneumatic conveyance of bulk materials (vacuum/pressure pneumatics)
River and lake aeration
To find out more information about this product please look at our website
Please follow us on Twitter, Facebook, LinkedIn and Instagram for updates and more information. Let's Talk!