About
Aerzen is one of the leading suppliers of two-shaft positive displacement machines worldwide. Aerzener Maschinenfabrik GmbH is an industry-leading positive displacement blower, screw compressor manufacturer, family-owned and run, and in existence since 1864. Aerzen Machines Limited is a wholly-owned daughter Company of the group, charged with servicing and supporting all Aerzen customers and clients in the UK and Ireland. ISO 9001, 14001 and OHSAS 18001 registered, the Company are UVDB verified and Investors in People certified. This all ensures that customers are given the highest possible standards of quality, health and safety, and environmental impact assurance. Aerzen have specialist teams of product managers for blowers, oil-free compressors, vacuum boosters, biogas and process gas blowers and compressors, Centrifugal Turbo compressors and our new range of energy-efficient Hybrid machines that are providing class-leading efficiencies and WLC's to industry. Aerzen also offer rental solutions for blowers compressors and ancillaries with package machines available for
Contact
Mr Matthew Morey
Aerzen House
Langston Road
Loughton
Essex
IG103SL
www.aerzen.com
Delta Blower Generation 5
The versatile and compact Delta Blower units can be deployed in any climate zone on Earth. In the most challenging outdoor environments just as safely as in covered indoor spaces. They can be used as both standalone units or in complex assemblies. They are as reliable in earthquake zones as they are aboard ships or in other mobile applications.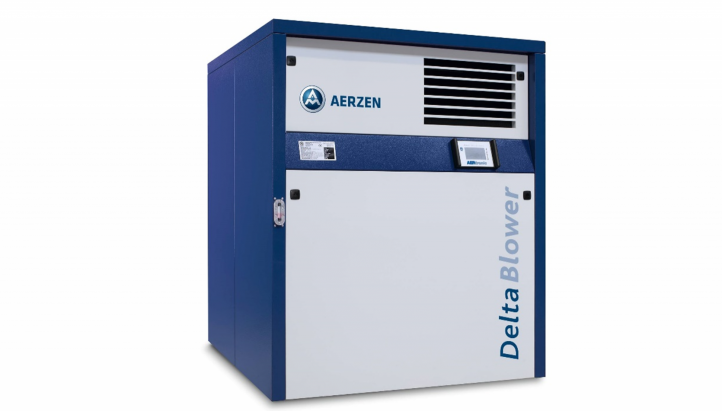 APPLICATIONS:
Water and waste water treatment
Pneumatic conveyance of bulk materials
Aeration
Filter backwashing
Gas conveyance
Degassing
Dust removal
Vacuum production
Biogas treatment
The Delta Blower Generation 5 is the synthesis of the successful characteristics developed in previous generations combined with new technical innovations that already meet the market requirements of the future. Aerzener Maschinenfabrik was the first blower manufacturer to design compact units in 1960 and has developed this machine type continuously ever since. Delta Blower Generation 5 is therefore already the 5th generation of AERZEN blower units and represents the successful combination of tradition and innovation.
ADVANTAGES OF AERZEN DELTA BLOWER GENERATION 5
Low noise levels due to considerable sound reductions
Operation-friendly & low maintenance design
Mechanical fan
No absorption material
Space-saving side-by-side setup
Energy-efficient design
Aerzen base support certified as spark arrester for ATEX-applications
Oil-free per Class 0 (certified according to ISO 8573-1)
To find out more information about this product please look at our website
Please follow us on Twitter, Facebook, LinkedIn and Instagram for updates and more information. Let's Talk!