Detectronic Ltd
About
A water monitoring specialist helping to prevent flooding, reduce pollution and improve rivers and bathing water, Detectronic specialises in the design, manufacture and installation of ultrasonic wastewater flow, level and water quality monitoring equipment for smart network monitoring of sewerage, wastewater and trade effluent. Detectronic provides flood management risk solutions focusing on measuring, recording, reporting and reacting to wastewater depths and flow rates. We provide clients with robust measurement and data, supported by our operations and data centre that delivers continuous data screening and analysis. By implementing smart network monitoring along with a combination of real-time and predictive data analysis, we can provide timely intervention reports to warn of potential or building issues and pollution reports that will significantly minimise the duration of any pollution events should they occur.
Contact

Regent Street,
Whitewalls Industrial Estate
Colne
Lancashire
BB8 8LJ
www.detectronic.org/
ORAKEL Non Contact Radar Flow Meter
An ideal solution for measuring flow in difficult to reach areas or for measuring hazardous liquids. Suitable for open channels, wastewater treatment and industrial applications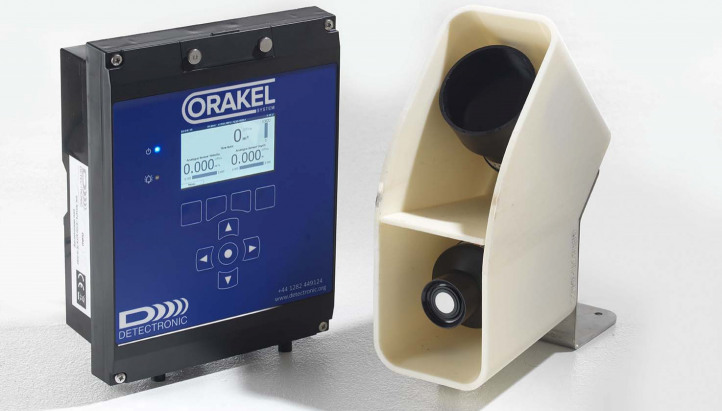 The ORAKEL Non-Contact Flow Monitoring System is a complete solution
for measuring and monitoring the flow of water, where the submersion of
sensors is prohibitive or undesirable.
The ORAKEL Non-Contact Flow Sensor is designed for open-channel flow applications where no existing primary measurement device, such as a weir or flume, exists. The ORAKEL System is an all-in-one measuring solution.
Created as a modular system, with ORAKEL you can stop using multiple systems and measure every parameter you need with just one solution.
APPLICATIONS
■ Permanent and portable sewer monitoring programs
■ Wastewater treatment plants
■ Industrial process measurement
■ Irrigation channels
■ Effluent flow measurement
■ Spill monitoring
■ Combined Sewer Overflows (CSO)
■ Sanitary Sewer Overflows (SSO)
■ Event Duration Monitoring (EDM)