About
Vacuum pumps, blowers and compressors from Busch are used wherever efficiency, reliability and safety are crucial factors. That?s why wastewater facilities all over the world use products by Busch. Busch technology is used in all areas of industry including chemical and pharmaceutical, environmental, water and waste, printing and food packaging. Our products consist of almost every type of vacuum and pressure equipment including rotary vane, claw, positive displacement blower, tri lobe blower, side channel blower, screw, and liquid ring pumps. We offer a full range of ATEX equipment with standard or bespoke equipment. Busch UK is one of 61 companies within the global Busch group and is the first overseas subsidiary outside of Germany to be established in 1971. The UK operation is comprised of our headquarters, national service centre, and specialist service centre in Telford, Shropshire, our Northern Ireland service centre in County Amagh, and our dedicated medium/high vacuum service centre in East Kilbride, Scotland. We pride ourselves in having one of the most established and comprehensive service range in the UK vacuum market and, with a network of Busch service engineers spread across the UK, we can offer on-site support to our customers within minutes. We are also able to service and repair all makes of vacuum pumps.
Samos Side Channel Blowers
Samos side channel blowers may be used in all areas where pulsation-free vacuum and pressure services are required. Units may be installed horizontally or vertically. The die-cast aluminium construction makes this a very robust product.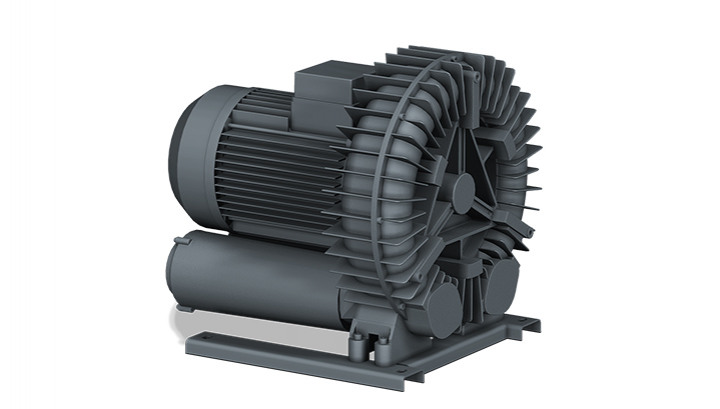 Maintenance-free
Sealed-for-life bearings, a fan-cooled drive and a non-contact impeller all ensure that the Samos side channel blower is maintenance-free.

Environmentally safe
Samos side channel blowers are exceptionally environment-friendly, as they require no operating fluids. An internal silencer allows the Samos to run very quietly, whilst the drive has energy-efficient motors.