About
Vacuum pumps, blowers and compressors from Busch are used wherever efficiency, reliability and safety are crucial factors. That?s why wastewater facilities all over the world use products by Busch. Busch technology is used in all areas of industry including chemical and pharmaceutical, environmental, water and waste, printing and food packaging. Our products consist of almost every type of vacuum and pressure equipment including rotary vane, claw, positive displacement blower, tri lobe blower, side channel blower, screw, and liquid ring pumps. We offer a full range of ATEX equipment with standard or bespoke equipment. Busch UK is one of 61 companies within the global Busch group and is the first overseas subsidiary outside of Germany to be established in 1971. The UK operation is comprised of our headquarters, national service centre, and specialist service centre in Telford, Shropshire, our Northern Ireland service centre in County Amagh, and our dedicated medium/high vacuum service centre in East Kilbride, Scotland. We pride ourselves in having one of the most established and comprehensive service range in the UK vacuum market and, with a network of Busch service engineers spread across the UK, we can offer on-site support to our customers within minutes. We are also able to service and repair all makes of vacuum pumps.
Mink Claw Compressor
Mink claw compressors were developed specifically for the reliable compression of air and other gases. Modern Mink claw technology guarantees an efficient and constant overpressure supply for numerous industrial applications of up to 2 bar(g).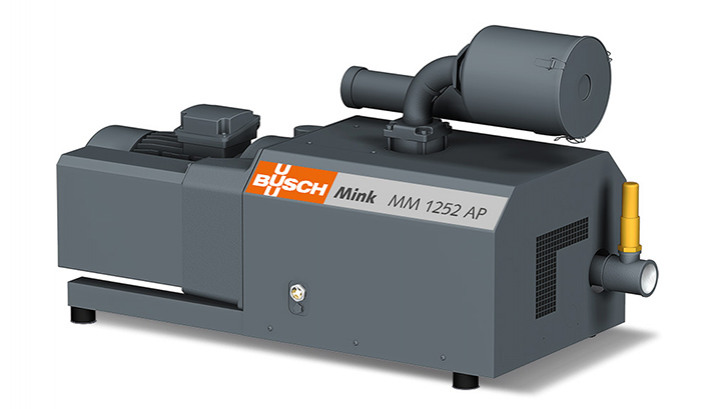 The output of Mink claw compressors is determined by the choice of motor. Motors may be selected to provide between 0.7 and 2.0 bar(g) as required by the application, ensuring efficient blast air and compressed air generation.

The contact-free operating principle of claw technology provides the additional benefit of nearly maintenance-free operation: None of the internal moving parts of the compressor come in contact with each other, so components are not subject to wear. Servicing tasks such as inspection and replacement of worn parts are eliminated completely.

The proven, completely dry-running claw technology of Mink claw compressor allows them to run without operating fluids in the compression chamber. The pumped medium is not contaminated, and may be used later without filtration or cleaning. In addition, no costs arise for the purchase, replacement and disposal of operating fluids.

Mink claw vacuum compressors are aircooled, so no effort for the installation and maintenance of a cooling system is required. Their contact-free operating principle allows them to run extremely efficiently, and the volume flow remains consistently high throughout the entire life cycle.

The outstanding reliability and long service lifetime of Mink claw compressors are also a result of the contact-free and dry compression. An intelligent sound insulation design allows Mink claw compressors to operate at low noise levels.

The compressors are approved in accordance with EU Directive 94/9/ EC (ATEX 95) as: Ex II 2(i)/2(0) G IIB3 T3 Category 2 in the compressor and in the external environment.Conveying: Explosion group IIB3 and temperature class T3 for all compressor sizes. Material restrictions:Dimethyl sulphide in concentrations of more than 10% byvolume. No flame arresters necessary.

Claw type pumps are also suitable for vacuum type applications also.