About
Vacuum pumps, blowers and compressors from Busch are used wherever efficiency, reliability and safety are crucial factors. That's why wastewater facilities all over the world use products by Busch. Busch (UK) Ltd was established in 1971 and was the first overseas subsidiary within the global Busch Vacuum Pumps and Systems group. The Busch (UK) Ltd headquarters, national service centre and specialist systems department is located in Telford, Shropshire. Additionally, we have a dedicated medium/high vacuum service centre based in East Kilbride, which also provides support to our customers in Scotland. Our dedicated systems department designs and builds standard and bespoke vacuum and low over pressure systems to meet the requirements of our customers and their processes. Pumps and vacuum systems are fully supported by our established and comprehensive range of service products. Customers can rely on expert advice, repair, pump and system audits and maintenance capability, either at our UK service centres, or on-site via our extensive network of field-based Busch service engineers.
TYR Rotary Lobe Blowers
Thanks to their robust design and precision manufacture, TYR rotary blowers are extremely dependable and operationally reliable. Constant differential pressure in both the vacuum and overpressure ranges is ensured at medium and high pumping speeds.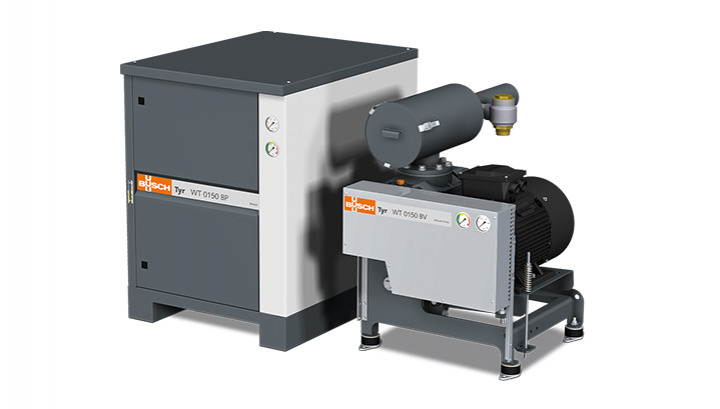 Application-orientated
TYR rotary lobe blowers are available as vacuum generators and overpressure generators. The six different sizes can be individually adapted to suit any application perfectly by selecting the drive and varying the speed. Depending on the version, the innovative noise insulation reduces noise emissions by 4 to 5 dB(A) compared to similar blowers. The acoustic cabinet (accessory) enables the noise level to be reduced by a further 15 to 20 dB(A).
Easy to service
Thanks to the non-contact operating principle, no operating fluid is required in the compression chamber. The operating pressure, filter and gear oil level can be monitored easily via displays on the housing/acoustic cabinet. Belt tensioning between the drive and the blower stage is performed automatically, eliminating the need for inconvenient checks and adjustment of v-belts.
TYR for Aeration Tanks
TYR rotary lobe blowers are ideally suited to the biological purification of waste water in aeration tanks. Reliable air injection providing an abundant supply of dissolved oxygen to the bacteria ensures effective removal of organic material and complete nitrification.
TYR for Sand Traps
TYR rotary lobe blowers ensure the efficient separation of heavy mineral particles as well as oils and fats in sand traps by creating turbulence. Light substances below the partition float to the surface and the heavier settle as sediment.