About
Eliquo Hydrok Ltd became a member of the Eliquo Water Group in 2016 through the acquisition of Hydrok UK Ltd by ELIQUO WATER GROUP GmbH . As a result of this, the company has been able to add to the already existing extensive solution and product portfolio that includes solutions for wastewater management, wastewater treatment, clean water treatment and surface water management, by the introduction of proprietary biosolids and nutrient management technologies. The new products along with a strong technology portfolio that includes CSO screens, flow controls, Mecana tertiary filtration, high-efficiency aeration technology, IFAS Fixed Bed Media, MBR Bio Reactors. and UV disinfection to mention just a few. Eliquo Hydrok provide Water Engineering Solutions to all manner of complex and simple problems. The experienced in-house design teams are available to help identify and discuss the requirement and, should any of our standard products not be the perfect solution, our in-house manufacturing facility enables us to produce bespoke designs to suit a particular need. Eliquo Hydrok are also the exclusive UK distributor for a number of leading European specialist manufacturers.
Contact
Mr David Armstrong
Warren RoadIndian Queens Ind EstIndian Queens

St Columb
Cornwall
TR9 6TL
www.eliquohydrok.co.uk
Eliquo Hydrok Tertiary Filtration phosphorus and micro pollutant solutions
The Eliquo Hydrok - Mecana range of Pile Cloth Media Filters are available to treat flows ranging from 3 l/sec to 250 l/sec in steel tank units. The filters are normally installed in multiple concrete tanks, the largest flow being 9,250 l/sec to-date. Alternatively bespoke stainless steel tanks can be designed and manufactured to suit the requirement. Retrofit into existing tanks is possible.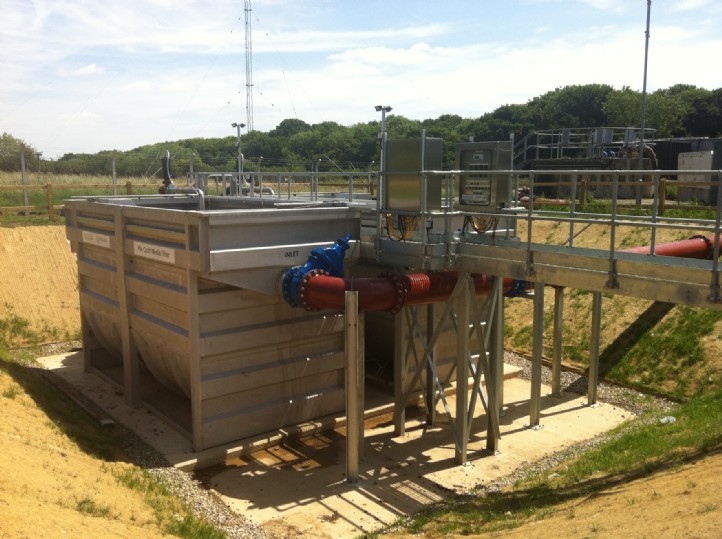 All units are produced to Swiss quality standards in Mecana's factory in Switzerland, with the stainless steel tanks and control systems manufactured in the UK by Eliquo Hydrok. The Mecana Pile Cloth Media Filter offers a superior operational performance to that of any micro-screen or micro-strainer in the market today as it is a true filter with depth filtration being the dominant particle removal mechanism.
Applications
• Tertiary Filtration for TSS reduction downstream of humus or secondary settlement tanks (<5mg/l TSS achievable)
• Tertiary phosphorus removal in combination with precipitation/flocculation
- bespoke design for Ptot consent from 1mg/l to less than 0.1mg/l
• Micro-pollutant 'Priority Substance' removal
• As an alternative to fixed film biological treatment humus tanks for removal of TSS
• Pre-filtration for fixed bed nitrification stages
• Storm Overflow filtration
Advantages
• Highly efficient solids separation
• High throughput & able to withstand shock loads
• Continual operation during backwashing
• Gravity flow typical - only 300mm head required
• Filters full flow even during backwashing
• Small Footprint - 'off-site' build
• Easy Cloth replacement
• Low Power Costs and Low Maintenance costs